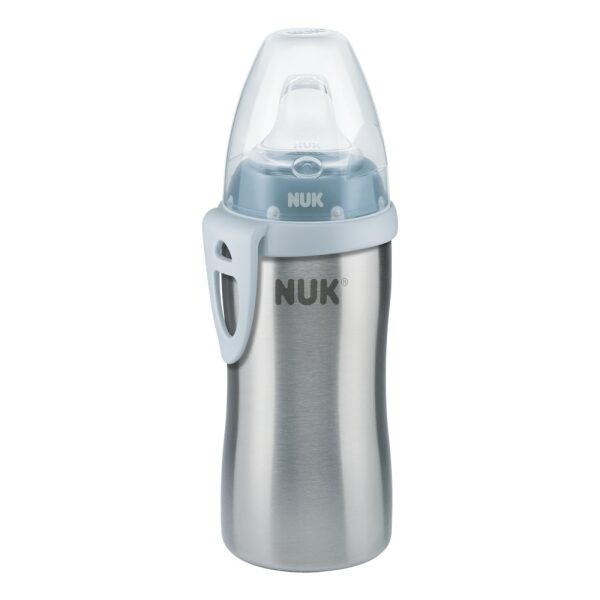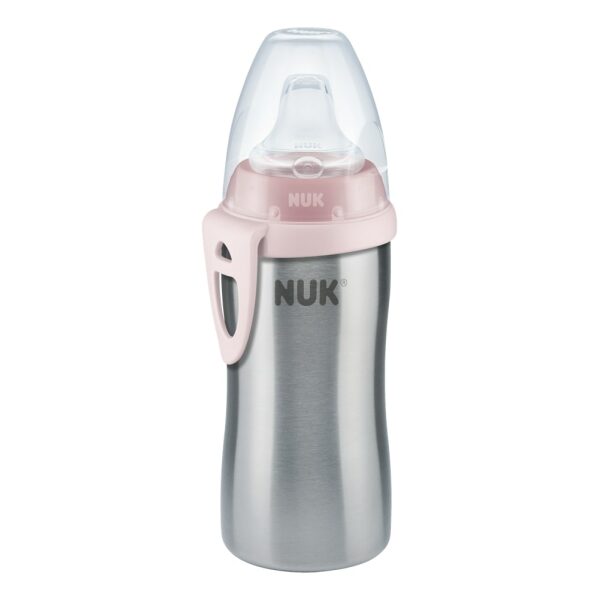 NUK FC+ Stainless Steel Active Cup 215ml
$39.99
Brand: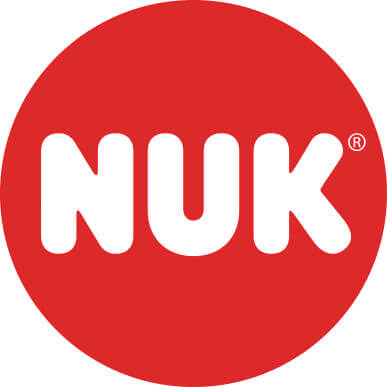 NUK Active Cup Stainless Steel, High-quality Stainless Steel Cup, 215ml, 1 per Pack.
There is nothing nicer than to go exploring with our dear little ones in the fresh air. Playing, running and romping around are on the daily schedule of the lively world conquerors. All this activity not only makes for great fun, it also makes you thirsty too! That is why, in summer, a cool refreshment is a must, while, in winter, our little ones are happy to have something warm to drink. Especially in these seasons, it is sometimes difficult to keep the drinks at a constant and appropriate temperature, for these often adapt to the ambient temperature after a short time. The NUK Active Cup Stainless Steel provides the answer! The innovative cup ensures that the drinks stay warm or cool for longer, giving prolonged drinking pleasure.
Stainless steel cup – ideal for out and about
The double-walled, stainless steel cup keeps various drinks not only warm or cold for longer, but primarily scores points as it is lightweight, hard-wearing and leakproof. A practical clip means it can be attached to a bag or trousers so that it does not get so easily lost. Being made of high-quality stainless steel, the bottle is absolutely odourless and neutral in taste, while, at the same time, the particularly soft silicone spout with its integrated soft zone gives a pleasant feeling while drinking. The ergonomically-shaped cup fits delicate children's hands perfectly and is suitable for children from 12 months on. The NUK Active Cup Stainless Steel is always a trusty companion for when you are out and about – the next thirsty moment is sure to come!
NUK Active Cup Stainless Steel – practical cup for children and parents
The stainless steel cup has many advantages not just for little ones, but also for you as a parent. The NUK Active Cup Stainless Steel is useful in many ways. With it being able to keep the drink either warm or cold, you now no longer continuously have to prepare another drink at the appropriate temperature. As a consequence, there remains more carefree and, above all, relaxed time to spend together with your child once more. Also cleaning the stainless steel cup is very simple, for this can easily be done in the dishwasher.
Where it differs from the polypropylene NUK Active Cup
The NUK Active Cup in polypropylene (PP) has already been popular with parents and children for years – resilient, hygienic and hard-wearing. The double-wall of the new NUK Active Cup Stainless Steel means that, not only do drinks stay warm or cool for longer, it is also a perfect, hygienic alternative to the plastic product. While the polypropylene NUK Active Cup can hold 300ml, the double-walled stainless steel version can prove itself with a volume capacity of 215ml. Both products are compatible with other NUK First Choice Bottle accessories.
Features:
Stainless steel, double-walled cup keeps drinks warm or cool longer
Lightweight and leak-proof for when out and about
High-quality stainless steel (18/8): durable, scratch-proof, uncoated, odourless and neutral in taste
Silicone spout with integrated soft zone gives pleasant feeling when drinking, BPA-free
For children over 12 months, holds 215ml
| | |
| --- | --- |
| Colour | Blue, Pink |
| SKU | 5560674 |
Success!
Question Added Successfully
Sort by
This Product have no Question..!