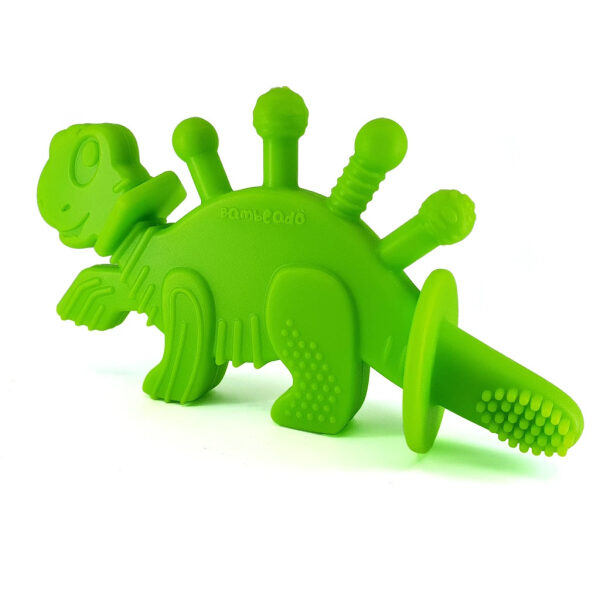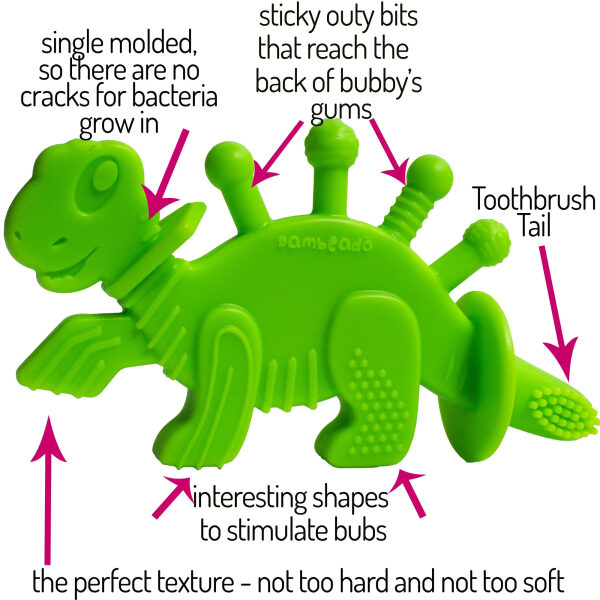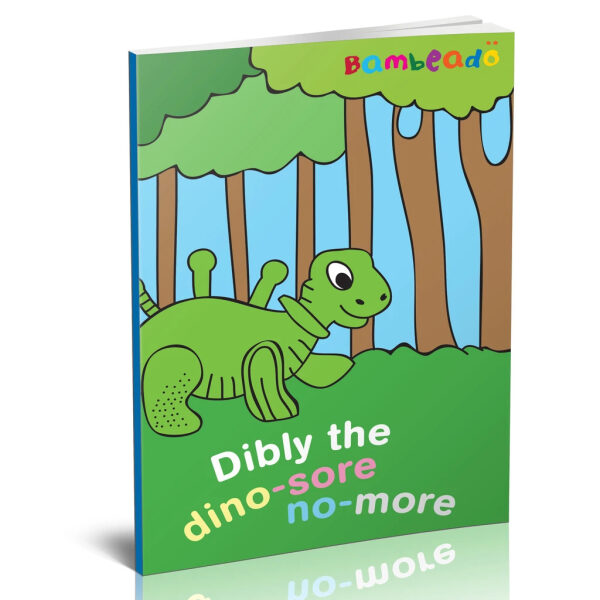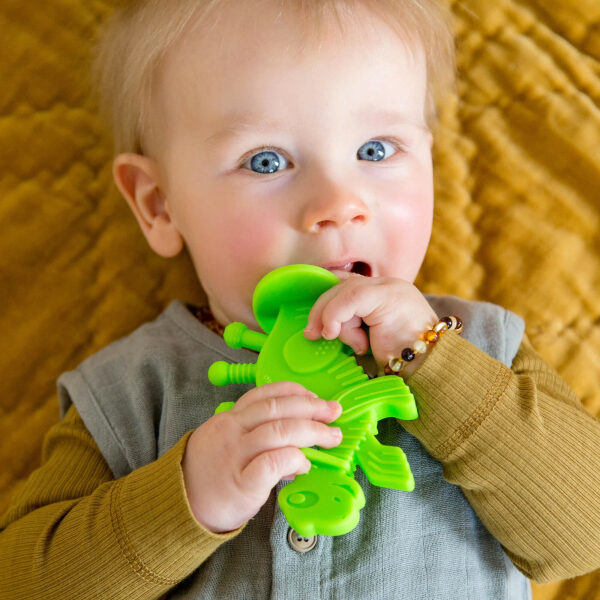 Bambeado Dibly the Dino-Sore-No-More – Lime
$21.95
Brand:

Baby Teether Toy by Bambeado.
SAVE YOUR SANITY – When your wee bubby is teething the whole household can be put under STRESS, lots and lots of it! Our Dibly the dino-sore-no-more teether toy can help reduce that stress for all, allowing you to enjoy this wonderful period with your child rather than wishing it away. Quite simply, Dibly is a must have for all babies from 3-6 months onward.
PROVIDE RELIEF FOR BUBBIES SORE GUMS – All babies instinctively want to chew on whatever they can get their little hands on when the teeth start to push through. Made from soft, chewable, baby-safe silicone, Dibly baby teether toys are the perfect texture for those tender gums – we call it the Goldilocks Zone, not too hard and not too soft, just perfect
LOTS OF COLOR, LOTS OF TEXTURE – We have put a lot of thought into the look at feel of Dibly baby teethers. The legs are just the right size for little hands to hold, the knobs on the back can reach the back molars and the toothbrush tail helps in the start of great oral hygiene habits. Combine all these features with the bright colors and the result is a sensory and tactile experience that will help stimulate your baby. Why buy boring teething rings when you can buy the Bambeado range of teethers.
NO NASTIES – Single molded product, so there are no cracks or joins for bacteria to accumulate. This also makes it perfect as a Bath Toy! Certified BPA Free, PVC Free, Lead Free. When it comes to newborn toys or baby teething toys you can't be too careful.
FREE 32 PAGE BOOK INCLUDED – Dibly is different from the other dinosaurs around and he doesn't understand why. Read the story to your child of how Dibly discovers his unique talents that make him special, just as all of us are. This lovely story conveys an important lesson in a fun and engaging way.
The story of Dibly
Read all about Dibly's adventures as he discovers all that he can do to help soothe the distressed and unhappy teething Bubbas that he meets on his travels in the free 32 page book included inside.
The story of Dibly is not only beautifully illustrated but is also carries a strong message – that we are all special and are capable of achieve great things.
The very young ones will love the images and the story will appeal to even older children
THE RESULT OF YEARS OF RESEARCH
Bambeado has made and sold hundreds or thousands of baby teething toys over the years.
During that time we have learnt a lot about what babies like and don't like (having two of our own children was the best possible testing lab).
We have taken those lessons learned and applied them to our latest creation – Dibly. He is jammed packed with the very best features we have discovered along our journey and is, without a doubt, as good a teether as you get.
WONDERFULLY PRESENTED
Not only is it a fantastic product, but it is also beautifully packaged. This makes it a great option as a gift for a;
Baby Shower​
New Grandchild​
Friends New Baby​
SAFE SAFE SAFE
Because Dibly is a single molded product, there are no joins or parts and it is almost impossible to break.
No joins mean there is nowhere for bacteria to grow, so it is very hygienic. Just throw it in the dishwasher and it is sterile.
Made of food-grade silicone means it contains no nasties like BPA.
We have passed all the relevant safety standards around the world. Just to make 100% sure, we put iit through the ulitmate test and gave our youngest to play with – she couldn't break it so we know we are good to go.
Success!
Question Added Successfully
Sort by
This Product have no Question..!