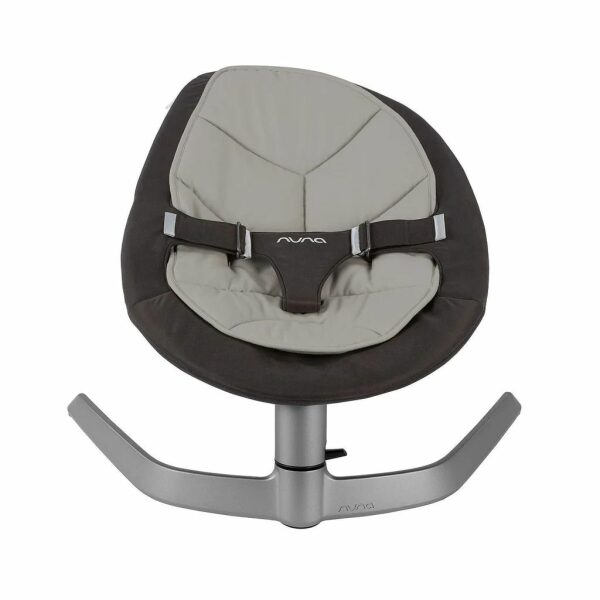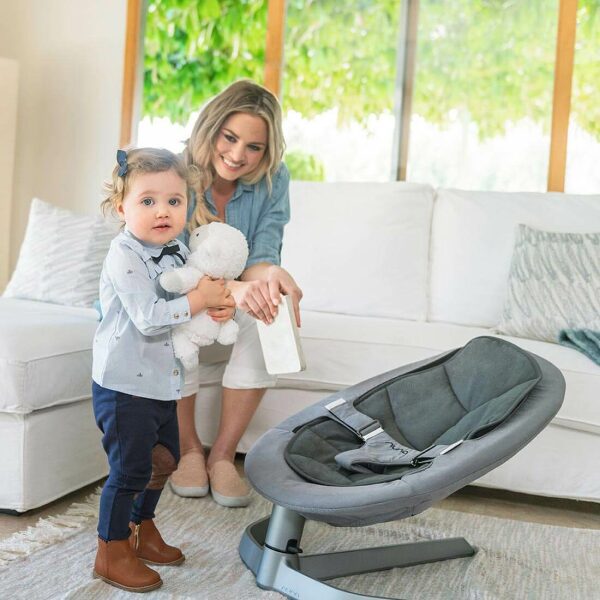 Nuna LEAF Original – Dusk
$365.00
Brand:

LEAF™ Rocker by Nuna
Inspired by the carefree float of a leaf on a breeze, the LEAF baby seat treats baby to a similarly mesmerizing ride.
The distinctive design–the only of its kind–was invented from baby's point of view and works at playtime, lunchtime and mama's chore time. Whether it's a motor-free wiggle party once they're walking, or a chilling pad after a hard day on the preschool playground, LEAF is both revolutionary and evolutionary which should keep them rocking out for years.
Features:
recommended use: birth to 60 kg
the Leaf has been tested for two uses; Birth to 6 months or 9 kg, then it can be used when child is walking up to 60 kg
elegant, serene design feels right at home in the living room
motion lasts unassisted with a gentle push for over 2 minutes
no batteries, no cords, no buzz, no noise
plush, cushy better for baby certified Oeko-Tex® fabric
easily locks stationary for feeding or playtime
pops out of base for easy storage or quick trips
evolves with baby to big-kid size
perfect angle for playing
mesh backing provides little breezes
product dimensions: 47 cm high x 71 cm wide x 72 cm deep
product weight: 5.21 kg
| | |
| --- | --- |
| Weight | 0.00000000 kg |
| ProductID | 32784 |
| SKU | NSE01000FOFGL |
Please note: peak season 20% price increase applies from 1st December – 8th February. If the pick up date or return date lands in this period, 20% applies. Outside of these dates, standard pricing will apply.
1 DAY - 1 WEEK

$

50.00
EXTRA WEEK

$

20.00
1 MONTH

$

90.00
3 MONTHS

$

120.00
6 MONTHS

$

190.00
Product Videos
Success!
Question Added Successfully
Sort by
Do you hire the Luna Leaf Bouncer

I was in the Ponsonby Store about 6 weeks ago and recall the lovely lady telling me I could hire the Luna Leaf? Bouncer... but I can't find it on the website. Love to know if there are any for hire available. Kindest, Kylie

Hi Kylie, thanks for your enquiry, yes we do hire the Nuna Leaf, prices can vary but we would recommend contacting your local store in regards to this. I hope this helps. ?For further information on this or any of our other products available, if you follow the link https://www.babyonthemove.co.nz/store-locations/ this will take you to our online store finder. Here you can find contact details for your nearest Baby On The Move Store where one of our team experts will be happy to assist you in your product search and help answer any further questions you may have. We hope this has helped with your query.

Question by : Kylie Fraser on Jun 1, 2017 09:17:25 PM

Hi when will the nuna leaf be back in stock?

Hi Hollie, thank you for yoru enquiry, the Nuna Leaf Original is back in stock with the colour twilight, the other colours will be back in stock in early November. we hope this helps. ?For further information on this or any of our other products available, if you follow the link https://www.babyonthemove.co.nz/store-locations/ this will take you to our online store finder. Here you can find contact details for your nearest Baby On The Move Store where one of our team experts will be happy to assist you in your product search and help answer any further questions you may have. We hope this has helped with your query.

Question by : Hollie on Aug 10, 2018 01:38:22 AM

What are the differences between the Nuna Leaf Original and Nuna Leaf Curv?

Trying to figure out which is the best one to buy and can't find the differences online

Hi ALikx, thank you for your inquiry, the Nuna Leaf Curve has a differently designed base that is curved and provides a contemporary design for baby and adult decor. They both are suitable from Newborn and both work with the Nuna Wind. We hope this helps.

Question by : Alix Hurley on Aug 22, 2019 10:05:35 AM

can I hire a NEW Nuna leaf

Hi there, Are we able to hire nuna leaf new one. Thanks,

Hi Sarah, thank you for your inquiry, you will need to contact your nearest store in regards to a new hire, they will be able to let you know availability & price. We hope this helps. if you follow the link https://www.babyonthemove.co.nz/store-locations/ this will take you to our online store finder. Here you can find contact details for your nearest Baby On The Move Store where one of our team experts will be happy to assist you in your product search and help answer any further questions you may have.

Question by : Sarah on Jan 4, 2020 11:14:21 PM

Can the wind component be used with this product? Thanks

Hi There, thank you for your inquiry, the Wind is suitable for use with the Nuna Leaf Original. I hope this helps.

Question by : Em on Apr 26, 2023 11:03:39 AM