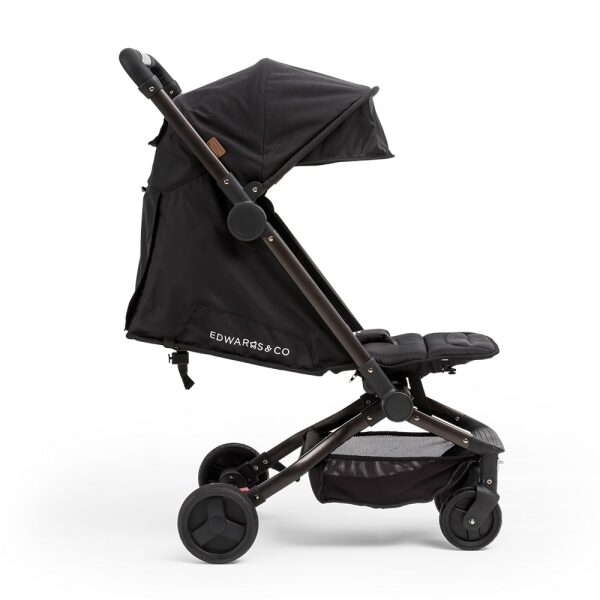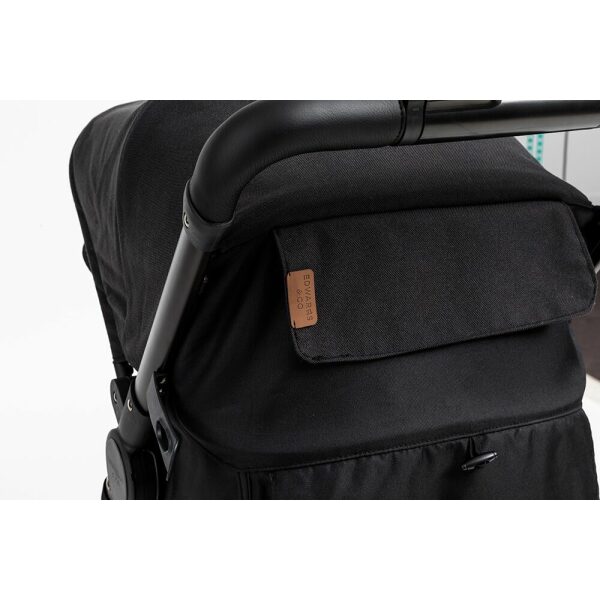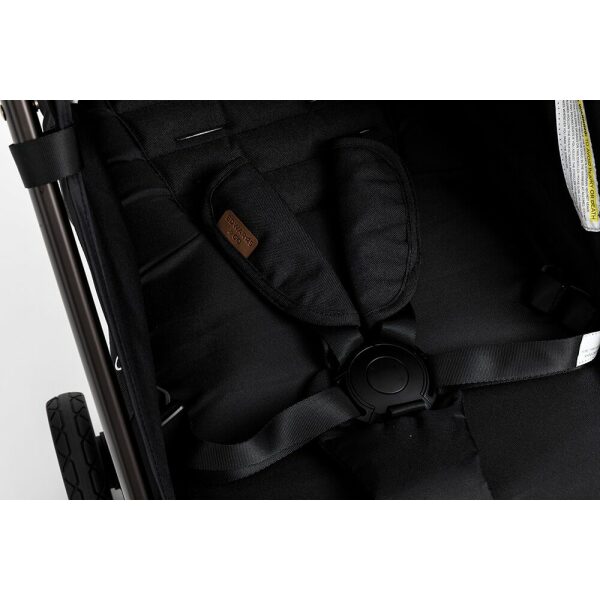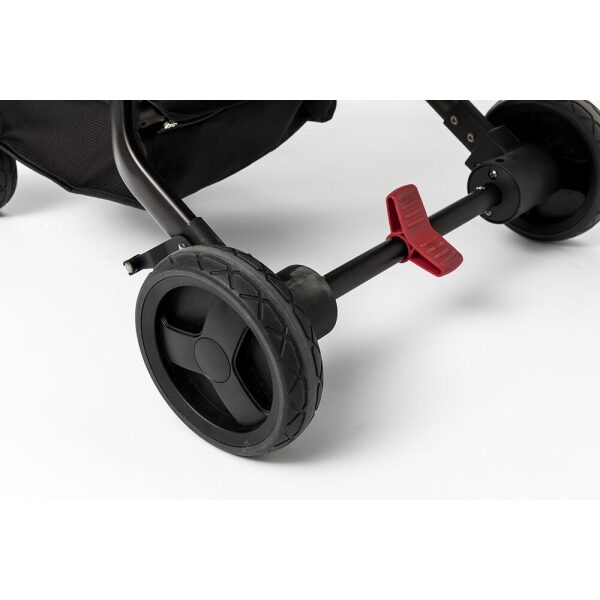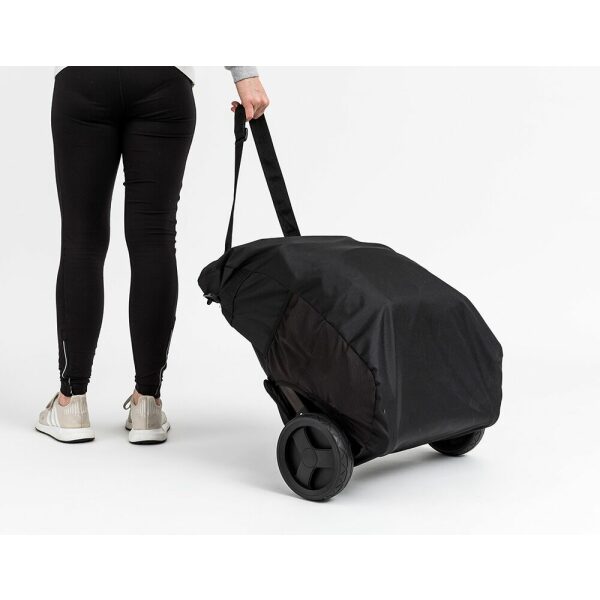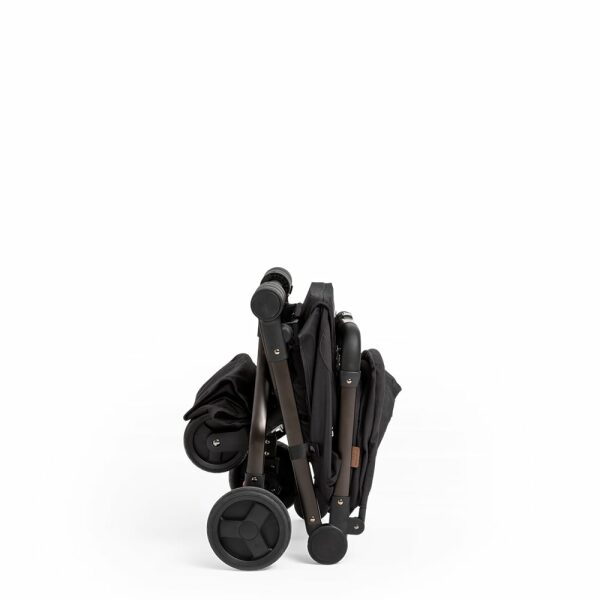 Edwards & Co Otto Stroller Black Luxe – Exclusive
$449.00
Brand:

Stroller by Edwards & Co
We love Otto!
He's the ultimate all-rounder – who can cope with anything. Take him on the plane and you'll love him at the other end! Sit up… lie flat… get a smooth ride without the punctures and fold him away with one hand. And from newborn, right up to 20kg, he'll keep on loving you back.
Features:
Folds up with one click and one hand, in under three seconds, to keep you moving without fussing.
Fits into the overhead compartment on planes, trains and buses – with thoughtful design that means you'll actually enjoy using it at the other end!
The only 'carry-on' sized stroller with a truly lie-flat seat and adjustable footrest. That means no accessories are required for newborns.
From newborns up to 20kg, otto is there for your child as they grow.
With glass-filled nylon hinges and a fully welded aluminium frame, all under 7kgs!
Airpocket technology means wheels feel like air tyres without the threat of punctures for a smoother ride, and a smoother push.
Adaptable travel bag included.
Designed to comply with most airline carry-on policies.
Stand folds with built in handle making him easy to carry and stow.
Mum, Dad, even Grandma can fold Otto quickly and easily. Once folded, his lightweight frame and carry handle make him easy to lift into the car and his compact fold leaves heaps of room in the boot!
Weight: 7 kg
2 year warranty
CONSUMER RECOMMENDS THE OTTO STROLLER
Consumer NZ has just awarded the Edwards & Co Otto "Consumer Recommends" status after rigorous comparative tests and analysis against other popular strollers available on the market.
Tests are independent and unbiased – strollers are tested against Australian and New Zealand safety standards and for ease of use.
"Consumer Recommends" status is awarded to the very best products tested by Consumer. This endorsement recognises the Otto passed all major safety and durability tests. If you choose a "Consumer Recommended" product, you'll be getting one that works better than its peers.
| | |
| --- | --- |
| Weight | 0.00000000 kg |
| Product Weight | 7 kg |
| Manufacture Warranty | 2 years |
| Seat Capacity | 20 kg |
| Frame Material | Aluminium |
| Length | With wheels: 54 cm. Without wheels: 53 cm. |
| Product Height | 103 cm, With wheels: 26.5 cm. Without wheels: 22.5 cm |
| Product Width | With wheels: 50.4 cm. Without wheels: 43 cm., Width of seat: 34.5 cm. Width of rear axle (with wheels): 50.4 cm |
| ProductID | 36314 |
| SKU | EC102-BL |
Please note: peak season 20% price increase applies from 1st December – 8th February. If the pick up date or return date lands in this period, 20% applies. Outside of these dates, standard pricing will apply.
1 DAY - 1 WEEK

$

70.00
EXTRA WEEK

$

20.00
1 MONTH

$

130.00
3 MONTHS

$

200.00
6 MONTHS

$

300.00
Success!
Question Added Successfully
Sort by
Is it easy to fold and open up?

Hi Aneeta, thank you for your enquiry, the Otto Stroller is one of our easiest strollers to use and folds down and up very quickly and easily. There is a video on the product page that will demonstrate this for you. We hope this helps. ?For further information on this or any of our other products available, if you follow the link https://www.babyonthemove.co.nz/store-locations/ this will take you to our online store finder. Here you can find contact details for your nearest Baby On The Move Store where one of our team experts will be happy to assist you in your product search and help answer any further questions you may have. We hope this has helped with your query.

Question by : Aneeta Bidesi on Apr 2, 2019 10:47:00 AM

How does this compare to mb nano

HiMandy, thank you for your inquiry, as we don't sell the Mountain Buggy Range I can't give you a direct answer. We, however, have alot of happy customers with the Otto and it has been one of our most popular strollers in 2018/19. We hope this helps. if you follow the link https://www.babyonthemove.co.nz/store-locations/ this will take you to our online store finder. Here you can find contact details for your nearest Baby On The Move Store where one of our team experts will be happy to assist you in your product search and help answer any further questions you may have.

Question by : Mandy on Aug 20, 2019 12:32:43 PM

Colour variations?

Is the only difference between the black luxe Otto and the other colours, the colour? Or is there other differences in the black luxe material? Thank you!

Hi Sophie, thank you for your inquiry, the only difference between the black luxe and the other colour variants is that they are different colours. We hope this helps. if you follow the link https://www.babyonthemove.co.nz/store-locations/ this will take you to our online store finder. Here you can find contact details for your nearest Baby On The Move Store where one of our team experts will be happy to assist you in your product search and help answer any further questions you may have.

Question by : Sophie on Sep 16, 2019 11:26:04 AM

Can you attach a capsule to this?

Or an insert for a newborn?

Hi Andrea, thank you for yoru enquiry, the Otto Stroller is not able to support the use of a capsule. We hope this helps. If you follow the link https://www.babyonthemove.co.nz/store-locations/ this will take you to our online store finder. Here you can find contact details for your nearest Baby On The Move Store where one of our team experts will be happy to assist you in your product search and help answer any further questions you may have.

Question by : Andrea on Oct 10, 2019 05:03:05 PM

What is the difference between the edwards and co otto and the otto luxe?

Hi Alyssa, thank you for your inquiry, the Edwards & Co Black Luxe is exclusive to Baby On The Move so has its own place separate to the other colours on our website. This is the only difference. We hope this helps. if you follow the link https://www.babyonthemove.co.nz/store-locations/ this will take you to our online store finder. Here you can find contact details for your nearest Baby On The Move Store where one of our team experts will be happy to assist you in your product search and help answer any further questions you may have.

Question by : Alyssa Johnstone on Jan 14, 2020 12:11:36 PM

Is the pram fabric easy to clean?

On the mustard coloured stroller is it easy to wipe clean if it would happen to get dirty?

Hi Anna, thank you for your inquiry, all the fabrics on the Otto are easy to clean for wipable marks, if it is something stronger you may need to follow the instructions in regards to cleaning the fabric. These strollers are made for everyday use and you can hang a bag on the handles as long as it does not exceed the weight of the stroller. We hope this helps. if you follow the link https://www.babyonthemove.co.nz/store-locations/ this will take you to our online store finder. Here you can find contact details for your nearest Baby On The Move Store where one of our team experts will be happy to assist you in your product search and help answer any further questions you may have.

Question by : Anna on Jun 21, 2020 12:46:38 AM

Hi! When is the offer expiring?

Hi Maggie, this offer ends on the 1st of October. Don't miss out! Hope that helps

Question by : Maggie on Sep 27, 2023 10:45:38 AM