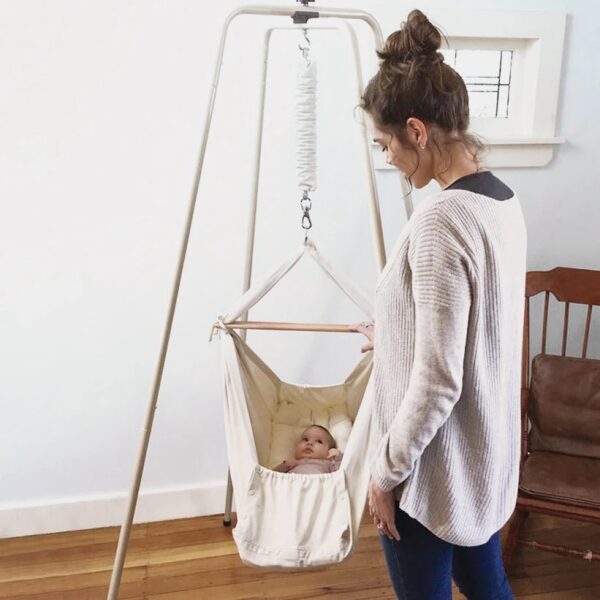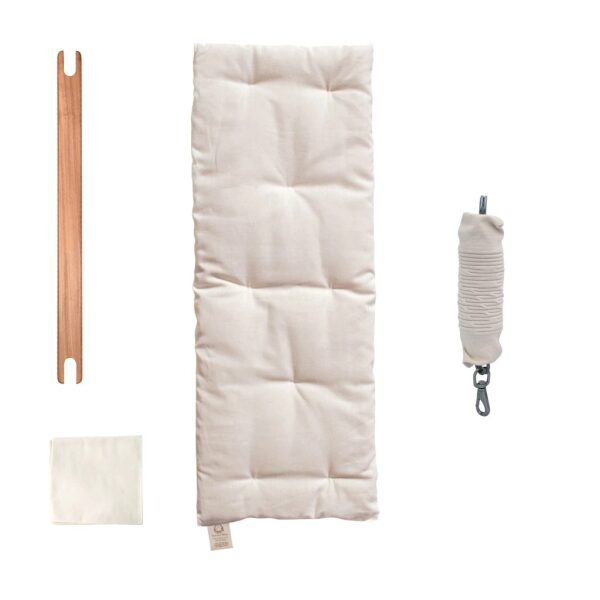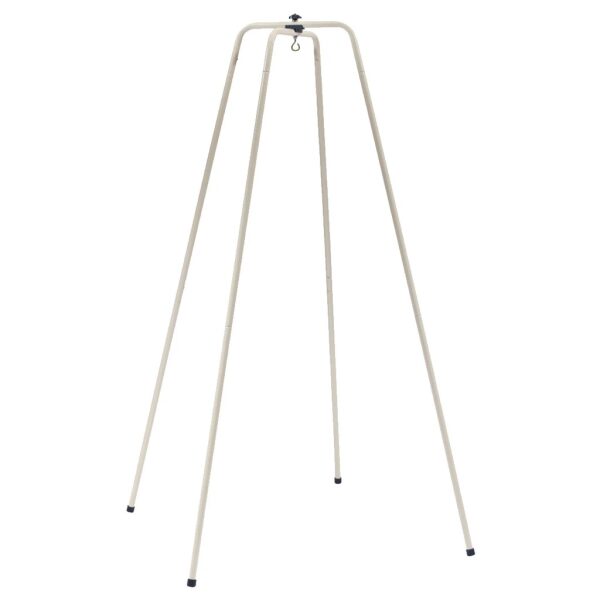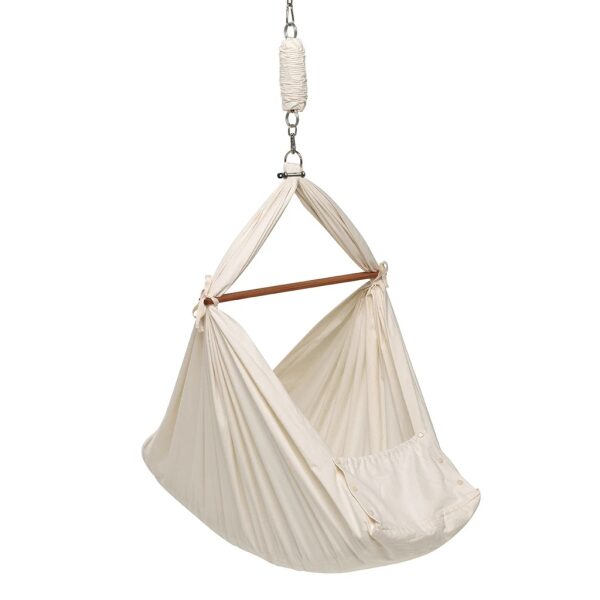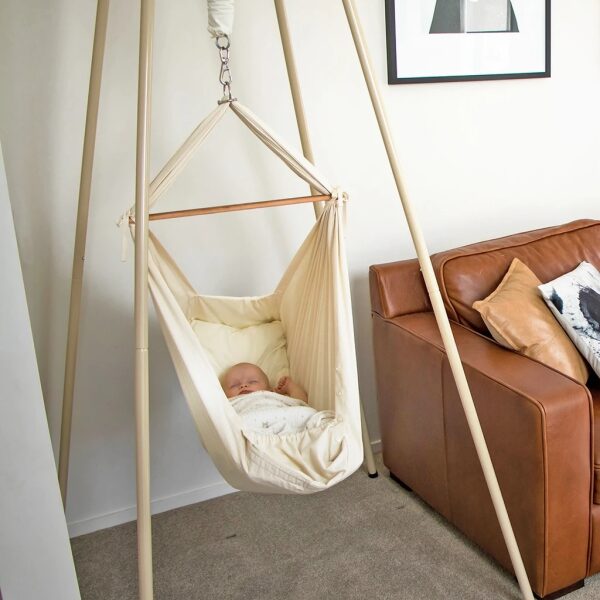 Natures Sway Baby Hammock with Steel Stand Pack
$565.00
Brand:
Baby Hammock with Steel Stand by Natures Sway
Hammocks have been used for centuries to keep babies safe and nearby their caregivers.
The hammock's natural contours keep babies on their back, and the therapeutic benefits of gentle movement have been appreciated by many parents the world over. Buying a Nature's Sway baby hammock gives you confidence that your baby is sleeping peacefully, in a bed made with all natural materials of the highest quality.
All of our products are lovingly hand-made in New Zealand from the highest quality materials, so you can be confident that your baby is surrounded by natural materials and fibres, with no harmful chemicals.
The Hammock
This baby hammock is constructed from superior quality, unbleached 100% cotton drill fabric. Hand-made in New Zealand, each hammock is carefully checked, to ensure the highest standards are always met. Please be aware; because this fabric doesn't use any potentially harmful bleaches or dyes, your hammock's exact shade of white may vary slightly from the hammock pictured.
The Mattress
All Nature's Sway baby hammocks come with a specially designed wool mattress, made from New Zealand wool, which naturally regulates your babies temperature, and is naturally flame resistant.
The Hardware
All Nature's Sway hardware components come from the highest quality sources, and have a lifetime warranty against failure. The Nature's Sway Safety Spring has been thoroughly tested and has zero initial tension, which means it will not snap shut on the re-bound, giving the hammock a much more gentle and flowing motion. Each spring also has a safety strap securely attached, which prevents the spring from over-extending. The chain, swivel clip, karabiners and hooks are all marine-grade stainless steel
The Stand
Our steel stands are made in New Zealand from a strong steel tubing. It measures 188 cm (74″) tall with a leg span taking up just over a square meter (10.7 sq feet ) of floor space. It is ideal for both indoor and outdoor use. It features easy 1-2 person assembly and dismantling, breaking down to poles just under a meter (39″) in length and weighing less than 7 kg (15.4 lbs) for easy storage and portability.
The baby hammock is designed to provide a gentle curve for your new born baby, however, as baby gets older they may require a stiffener underneath the mattress to make the hammock base firmer and more open. These are recommended for babies 4kgs and over and are sold separately.
Always observe all safety instructions. When a child is able to roll, sit, kneel or pull themselves up, the hammock is no longer safe and should not be used.
Your Nature's Sway Baby Hammock and Stand Pack will include:
One cotton baby hammock
One steel stand
One Natural wool mattress covered with 100% cotton
One brushed cotton knit fitted sheet
One wooden beam
One spring
An instruction booklet
One Hammock carry bag
| | |
| --- | --- |
| Weight | 0.00000000 kg |
| ProductID | 37574 |
| SKU | BHCDS |
Please note: peak season 20% price increase applies from 1st December – 8th February. If the pick up date or return date lands in this period, 20% applies. Outside of these dates, standard pricing will apply.
1 DAY - 1 WEEK

$

70.00
EXTRA WEEK

$

30.00
1 MONTH

$

120.00
3 MONTHS

$

160.00
6 MONTHS

$

250.00
Success!
Question Added Successfully
Sort by
How much maximum weight this steel stand can support?

My baby is 10kg and will this steel stand can bear that much weight or do you have any separate stand for holding weights more than 4kg.

Hi RamaPriya, the stand weight limit is 25 kg. Hopes this helps.

Question by : RamaPriya on Apr 23, 2020 04:08:59 PM

How I can hire the products?

Hi there, underneath the pricing on the product page there is a button that you click that says "hire me" this will take you to our hire form which then gets sent to your local store. I hope this helps.

Question by : Priyanka on May 30, 2022 10:44:26 AM