Earn Airpoints Dollars™ with Every Baby Step
Parenthood is even more rewarding now that Baby On The Move is an Airpoints™ Partner bringing even more value to our service.
Airpoints members can earn 1 Airpoints Dollar™ for every $100 spent shopping or hiring from Baby On The Move.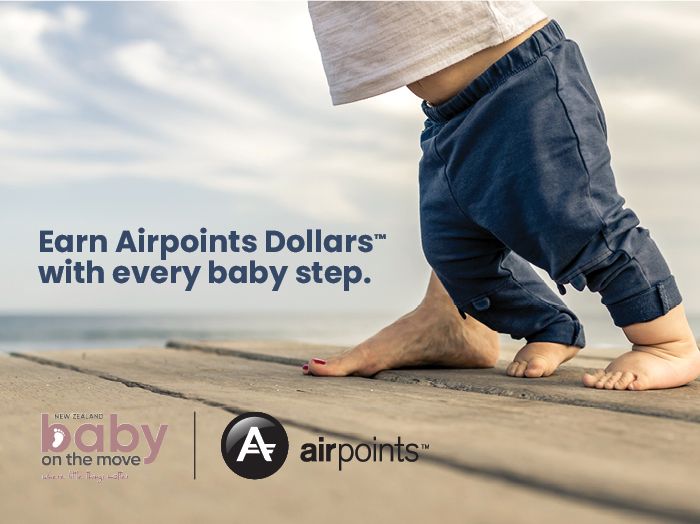 Earn Airpoints Dollars™ at Baby On The Move
Airpoints members can earn 1 Airpoints Dollar for every NZD$100 spent at Baby On The Move.
To get 'on-the-move' to earning your next family vacation or you've had your eye on in the Airpoints™ store.
Step 1: Shop or Hire
Explore our range of car seats, buggies, cots and everything else that you need when it comes to having a new baby.
Step 2: Enter Your Airpoints Number
Simply add your Airpoints number to your sale to be rewarded and get closer to being 'on-the-move' near or far.
In-store you can either scan your physical Airpoints card or your digital Airpoints card in the Air New Zealand app.
For ordering via our website there is a field to type in your Airpoints membership number at check out.
Step 3: Watch Your Airpoints Dollars Grow
For every $100 spent, you'll receive 1 Airpoints Dollar. No complex calculations, just seamless rewards!
Terms and conditions apply.
Step 4: Redeem your Airpoints Dollars
With your Airpoints Dollars, you open up a world of possibilities for your family:
Travel: Airpoints Dollars can be used towards Air New Zealand flights, Koru memberships, rental cars, and travel insurance.
Shopping: Explore over 10,000+ fantastic rewards at the Airpoints Store™ – find something special for your little one or yourself.
Not an Airpoints Member Yet? Becoming an Airpoints member is a breeze and free of charge. Visit the Air New Zealand website to sign up.
Frequently Asked Questions
Have questions? We have answers