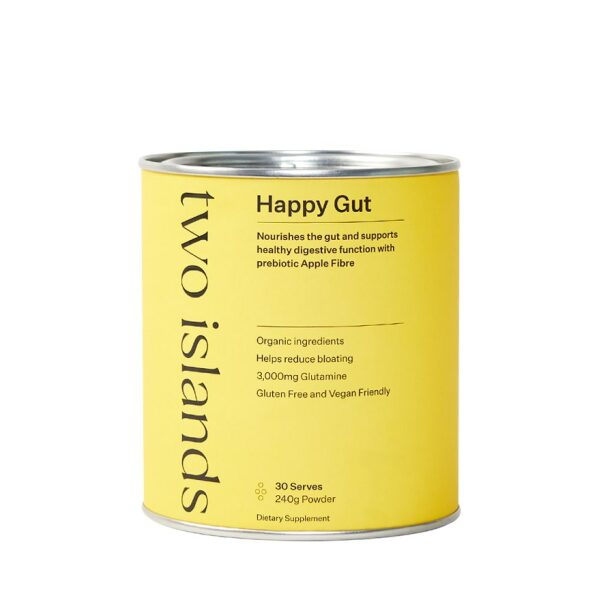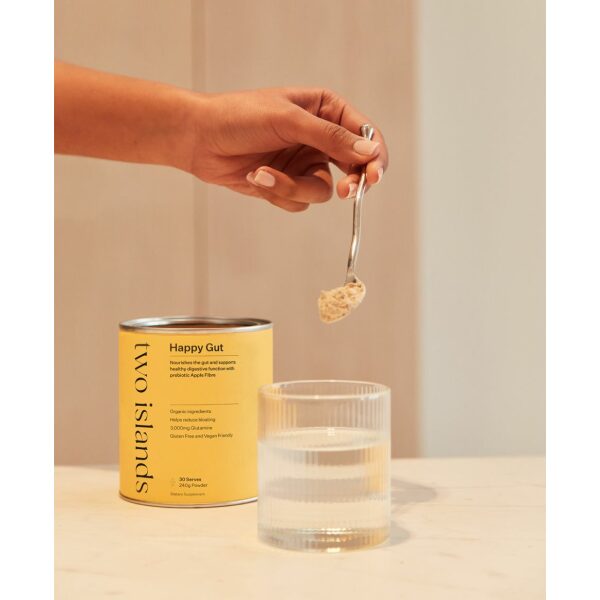 Two Islands Happy Gut – Gut Health Powder 240g
$69.95
Brand:

Gut Health Powder by Two Islands
Combining a high dose of glutamine with soothing herbs including slippery elm, chamomile and ginger, Two Islands Happy Gut supports gut health and overall digestion for a happy gut.
Formulated by a naturopath and herbalist to nourish and support gut lining integrity, this specialised blend helps to reduce bloating and supports digestive comfort. With added Hawke's Bay prebiotic apple fibre and chia seeds, Happy Gut provides a good source of fibre to support healthy digestive function and promote the growth and activity of good gut bacteria – all wrapped up in a pleasant drink that tastes like spiced apple pie.
Features:
Supports digestion and overall gut health
Organic ingredients
New Zealand prebiotic apple fibre
Gluten, dairy, soy, and GMO free
Free of added flavours, sweeteners, and colours
Free of fillers, additives, and preservatives
Who is Happy Gut for?
Two Islands Happy Gut is formulated with nourishing and soothing ingredients to support overall gut health and digestion. Designed to support gut lining integrity, Two Islands Happy Gut helps reduce bloating, supports digestive comfort and helps feed beneficial gut bacteria for optimal gut health and total body wellbeing.
Things like stress, a poor diet, alcohol, antibiotics and other medications can upset the balance of our gut bacteria and compromise our intestinal lining. When this happens, our digestion can be significantly affected. This can change the way we react to certain foods, impact on the amount of nutrients we absorb, as well as cause overall abdominal discomfort and upset our bowel patterns too.
When it comes to gut health, it's not just our digestion that can be affected. A healthy gut is vital for overall health and wellbeing. From a strong immune system, to clear, healthy skin, a happy mood, a healthy brain, heart and good sleep, a happy gut means a happy body and mind.
Two Islands Happy Gut may support:
Overall gut health
Bloating
Skin health
Balanced mood
Low energy
Sleep
Bowel regularity
Healthy immunity
Sugar cravings
Poor digestion
Food sensitivities
Ingredients:
L-Glutamine is an amino acid that is an important energy source for intestinal and immune cells. It  supports the gut's mucous membrane and the maintenance of the barrier between the inside of your intestines and the rest of your body.
Slippery Elm is a herb derived from the slippery elm tree. When combined with water, it forms a "slippery" like substance, which helps to coat and soothe mucous membranes and calm any irritation. Traditionally it has been used to help support digestion, bowel regularity, digestive comfort as well as soothe dry throats.
FibaFit™ is a type of fibre derived from Hawke's Bay apples. It is a rich source of both soluble and insoluble fibre which can help to bulk stools and allow for regular and comfortable bowel motions. It is also a source of antioxidants and vitamin D, which is also involved in supporting a healthy gut lining. As a good source of prebiotic fibre, it helps to feed the good bacteria in our gut, helping with a healthy intestinal microbial balance. Studies have shown that apple fibre can increase a type of fatty acid in the body called butyrate, which supports the balance of good bacteria in the intestine.
Chia seeds are rich in fibre, omega-3 fatty acids, and are a complete protein meaning they contain all nine essential amino acids needed by the body. As a source of soluble and prebiotic fibre, chia seeds can help to support overall digestion, a good balance of bacteria in your gut, and healthy bowel movements.
Marshmallow is a herb rich in mucilage that helps to coat and soothe mucus membranes. Research suggests that the mucilage content creates a protective layer on the lining of the digestive tract, helping soothe and support gut lining integrity. Marshmallow may also support healthy tissue regeneration and has been shown to help support healthy gut flora.
Chamomile is a carminative herb that helps to support the digestive system and reduce bloating and gas. It's calming properties also support a healthy stress response as well as the gut-brain axis.
Ginger is a herb that is well-known to help soothe and settle an upset stomach. It is a potent antioxidant and has shown to help support overall digestion, as well as help reduce bloating and support digestive comfort.
Cinnamon is a spice that contains high levels of antioxidants. As well as helping to support healthy blood sugar levels, cinnamon is also well known to support digestive comfort, bloating and stomach upset.
How to use:
Adults from 16 years: Add 2 rounded teaspoons (approx. 8g) mixed into 200ml of warm water daily or as professionally advised
Children 6-15 years – add ½ a rounded teaspoon (approx. 2g) mixed into 100ml of warm water daily or as professionally advised.
Pro tip: Mix Happy Gut with warm water, stir and drink immediately at any time of the day.
Can be added to smoothies or fresh juice.
Consult your healthcare professional if pregnant or on blood thinning medication.
No added flavours, sweeteners, preservatives, colours, gluten, egg, dairy, soy or wheat.
Suitable for vegetarians and vegans
All Two Islands nutritional support products are supplementary to and not a replacement for a quality, whole foods diet. Always read the label and use as directed. If symptoms persist, see your healthcare professional.
Success!
Question Added Successfully
Sort by
Is this suitable to use during pregnancy? I feel disgusting after all my first and part second trimester binge eating so looking for some gut health

Hi There, thank you for your inquiry, as every pregnancy is different we would recommend consulting your healthcare professional to confirm if this is suitable for use. We hope this helps.

Question by : renc on Jun 1, 2022 08:56:17 AM