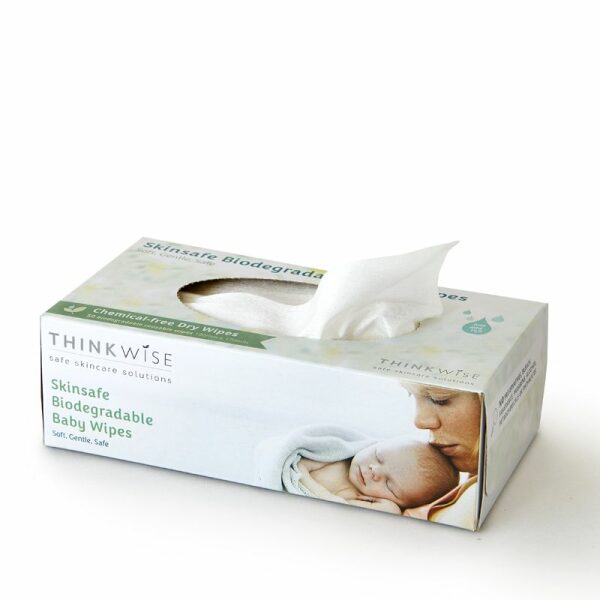 ThinkWise Skinsafe Dry Biodegradable Baby Wipes 50pk
$4.99
Brand:

Protect and cleanse your baby's sensitive skin with Skinsafe Biodegradable Baby Wipes and look after the environment.
These premium wipes are soft, absorbent & 100% natural. They can be washed (gentle cycle) and reused.
Your baby's skin can be damaged by parabens, alcohol, detergents, preservatives, and chlorine contained in standard wet wipes. By using Skinsafe Biodegradable Baby Wipes you can ensure that your baby's precious skin is cared for and protected by avoiding these harsh chemicals. Using these wipes reduces the risk of inflammation and common skin conditions like nappy rash and eczema.
Features:
Thinkwise Biodegradable wipes contain no harsh chemicals, are fragrance free and are ultra soft and gentle.
In independent laboratory tests, deionised water was added to the wipes and then extracted. The extracted residue yielded zero chemicals.
These wipes come in boxes of 50 wipes and are a preferred alternative to flannels/face cloths. They are low linting, highly absorbent and 100% Bamboo.
Thinkwise Biodegradable wipes are easily dispensed from the box, one wipe at a time—no wasted wipes pulled through. They are highly portable, convenient and practical.
Size: 18 x 19cm
Thickness: 40 gsm
50 wipes per packet
NO RISKY CHEMICALS, NO FRAGRANCES, NO PARABENS, NO PRESERVATIVES, NO PETROCHEMICALS, NO ALCOHOL, NO PHTHALATES, NO BLEACH
Disposal:
Thinkwise Biodegradable Dry Wipes should be disposed of in your 'green waste' segregation stream. They fully compost in under three (3) months in appropriate, home compost conditions contributing to a cleaner environment.
Research has shown that over half of the general waste going to land-fills is organic waste which is a valuable resource when used to make compost. "High-grade" compost plays a major part in raising the efficiency of New Zealand's agriculture. It has been shown to reduce the need for cultivation and improve the water holding capacity of the soil. This can lead to a 20% reduction in irrigation costs – resulting in less need for fertilizers and pesticides and, most importantly, increased yields.
Ingredients:
This dry wipe product is made from a non-woven, low linting 100% Bamboo harvested from sustainable sources.
Usage:
Simply dampen these wipes with water and use for cleansing.
Success!
Question Added Successfully
Sort by
This Product have no Question..!