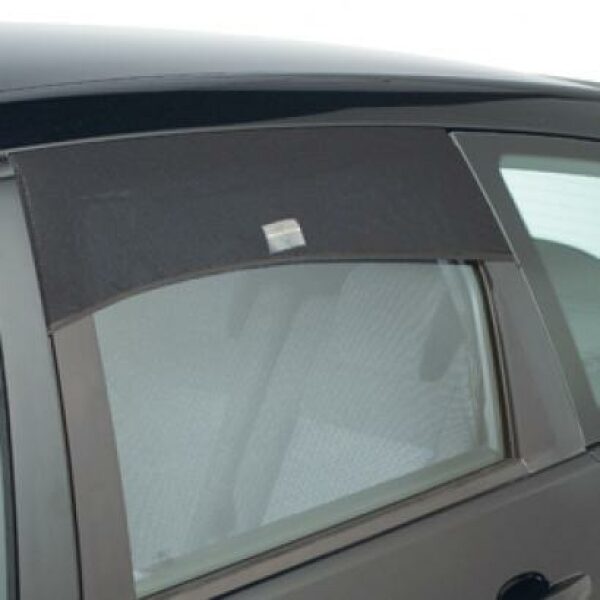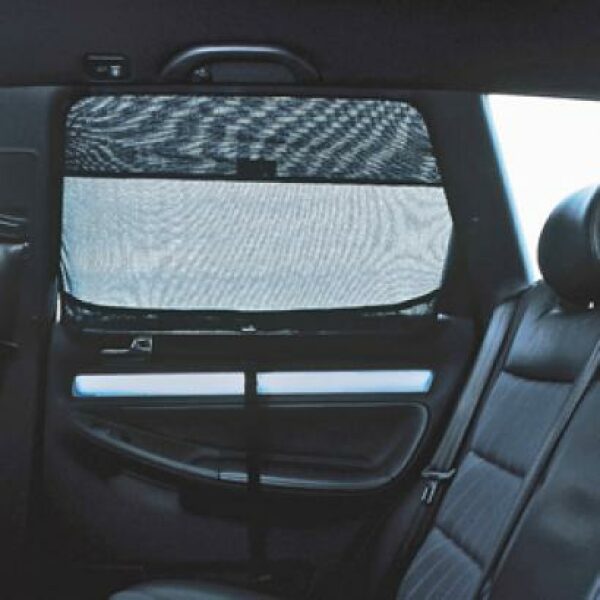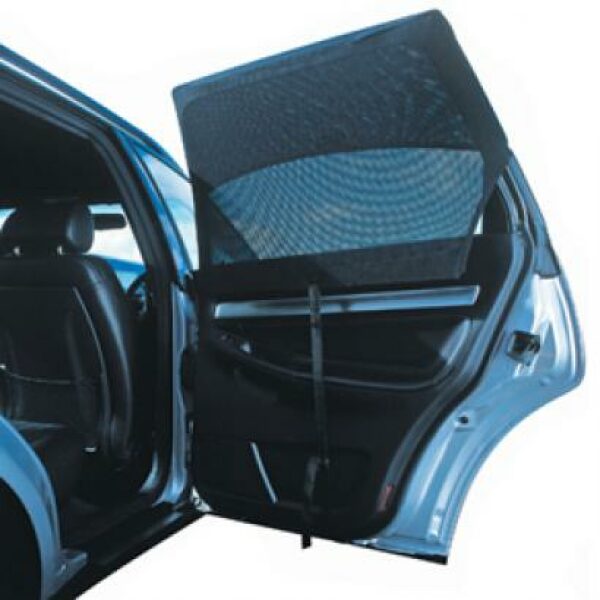 Outlook Rectangular Auto Shade Twin Pack
$59.95
Brand:
Auto Shade car sunshade helps protect from strong sunlight, UV and glare. Car shades screen up to 90% of harmful UV rays with UPF 10+ rated fabric.
These car window blinds provide relief from heat and glare. Windows can be raised or lowered for ventilation with the autoshade car window sox fitted. Shades attach easily leaving no residue or marks on the vehicle.
Unique pull down strapping device ensures the shade never "rides up" unlike other similar products.
The unique design that covers the entire window on the inside and only the top of the outside allows for greater vision for drivers and passengers.
Features:
Helps protect your family from strong sunlight, UV and glare inside your car
Window can be raised and lowered for ventilation
Attaches easily and securely in seconds
Fits most makes and models
Provides 90% UV protection
Endorsed by the Skin & Canser Foundation Australia
| | |
| --- | --- |
| Weight | 0.00000000 kg |
| ProductID | 12792 |
| SKU | 1-1-803-01 |
Success!
Question Added Successfully
Sort by
Would this fit a falcon?

Looking for sun shades for a ford xr6? Would these fit?

Hi Kelly, Thank you for your enquiry, The Rectangular Auto Shade Twin Pack fits most makes and models, I would suggest the curved for your car as the windows in the back would fit that shape better. The other option is to contact your nearest Baby On The Move Store to try one on your vechicle in-store. I hope this helps. For further information on this or any of our other products available, if you follow the link https://www.babyonthemove.co.nz/store-locations/ this will take you to our online store finder. Here you can find contact details for your nearest Baby On The Move Store where one of our team experts will be happy to assist you in your product search and help answer any further questions you may have. We hope this has helped with your query.


Question by : Kelly on Aug 12, 2016 02:08:17 PM

Would this fit a Ford Territory?

We have a Ford Territory 2014 and would like two for the back windows.

Hi Megan, thanks for your enquiry The Rectangular Auto Shade Twin Pack fits most makes and models, I would suggest the Rectangular for your car as the windows in the back would fit that shape better. The other option is to contact your nearest Baby On The Move Store to try one on your vehicle in-store. I hope this helps. For further information on this or any of our other products available, if you follow the link https://www.babyonthemove.co.nz/store-locations/ this will take you to our online store finder. Here you can find contact details for your nearest Baby On The Move Store where one of our team experts will be happy to assist you in your product search and help answer any further questions you may have. We hope this has helped with your query.


Question by : Megan on Dec 5, 2016 08:54:17 PM

Would these fit a mazda premacy

Hi Lyndsay, thank you for your enquiry, the Outlook Rectangular shades will fit your vehicle. We hope this helps. ?For further information on this or any of our other products available, if you follow the link https://www.babyonthemove.co.nz/store-locations/ this will take you to our online store finder. Here you can find contact details for your nearest Baby On The Move Store where one of our team experts will be happy to assist you in your product search and help answer any further questions you may have. We hope this has helped with your query.

Question by : Lyndsay on Nov 16, 2018 01:39:17 PM

Will this fit a Toyota Previa? It has sliding doors?

Hi Chantal, thank you for your enquiry, the Outlook shades will be too small for the car you have, we do have a few other options that maybe suitable, we would advise contacting your nearest store. We hope this helps. ?For further information on this or any of our other products available, if you follow the link https://www.babyonthemove.co.nz/store-locations/ this will take you to our online store finder. Here you can find contact details for your nearest Baby On The Move Store where one of our team experts will be happy to assist you in your product search and help answer any further questions you may have. We hope this has helped with your query.

Question by : Chantal Davidson on Jan 28, 2019 03:39:30 PM

Hi there, will this fit a Mazda 3 and an outback legacy?

Hi Hayley, thank you for your enquiry, the Rectangular one will fit the Legacy however you will need a Curved for the Mazda 3. We hope this helps. ?For further information on this or any of our other products available, if you follow the link https://www.babyonthemove.co.nz/store-locations/ this will take you to our online store finder. Here you can find contact details for your nearest Baby On The Move Store where one of our team experts will be happy to assist you in your product search and help answer any further questions you may have. We hope this has helped with your query.

Question by : Hayley on Mar 22, 2019 11:01:03 AM

could you please tell me whether the rectangular or curved fit would be the best for the hyundai tucsun?

Hi could you please tell me whether the rectangular or curved fit would be the best for the hyundai tucsun? kind regards, Helen O'Neill

Hi Helen, thank you for your enquiry, we would suggest the rectangular for the hyundai tucsun. We hope this helps. if you follow the link https://www.babyonthemove.co.nz/store-locations/ this will take you to our online store finder. Here you can find contact details for your nearest Baby On The Move Store where one of our team experts will be happy to assist you in your product search and help answer any further questions you may have. We hope this has helped with your query.


Question by : Helen on Jun 17, 2019 11:50:16 PM

Hi there, I have a Toyota RAV4, would I need curved or rectangular? Thanks.

Hi Katy, thank you for your enquiry, can you tell me which year it is? as this may make a difference. Thanks

Question by : Katy on Jul 30, 2019 10:13:10 PM

RAV4 2016 model

Could you please let me know if it would fit my model

Hi Nicole, thank you for your inquiry, these would be suitable for your vehicle. We hope this helps if you follow the link https://www.babyonthemove.co.nz/store-locations/ this will take you to our online store finder. Here you can find contact details for your nearest Baby On The Move Store where one of our team experts will be happy to assist you in your product search and help answer any further questions you may have.


Question by : Nicole on Oct 19, 2019 09:32:10 AM

Will this fit a 2017 Mazda 6 wagon?

Is the rectangular or curved shade the better option?

Hi Michelle, thank you for your inquiry, the Outlook Rectangular shades would be a better fit for the 2017 Mazda 6 wagon. We hope this helps. If you follow the link https://www.babyonthemove.co.nz/store-locations/ this will take you to our online store finder. Here you can find contact details for your nearest Baby On The Move Store where one of our team experts will be happy to assist you in your product search and help answer any further questions you may have.


Question by : Michelle on Oct 22, 2019 08:27:31 AM

Would this fit a 2018 Mazda bt50?

Hi Anne, thank you for your inquiry, The Rectangular autoshade is universal for most rectangular doors so this should be suitable for your vehicle. We hope this helps. if you follow the link https://www.babyonthemove.co.nz/store-locations/ this will take you to our online store finder. Here you can find contact details for your nearest Baby On The Move Store where one of our team experts will be happy to assist you in your product search and help answer any further questions you may have.

Question by : Anne on Dec 9, 2019 08:02:25 PM

Hi, would this fit a Toyota Wish?

Hi there, yes this should be suitable - Thanks Stace

Question by : Zainab on Sep 24, 2021 01:41:38 PM

Hi there, we have a RAV 4 cruiser 2020 model and a Mazda CX8 2022(I think). Will these shades fit these cars?

Hi Emily, typically most 4WD or larger vehicles will have a more rectangular shaped window, so it should fit. However, if you purchase the shades and they don't fit, you can return the item but it must be in the original packaging and undamaged. We hope this helps.

Question by : Emily W on Sep 4, 2023 12:40:49 PM