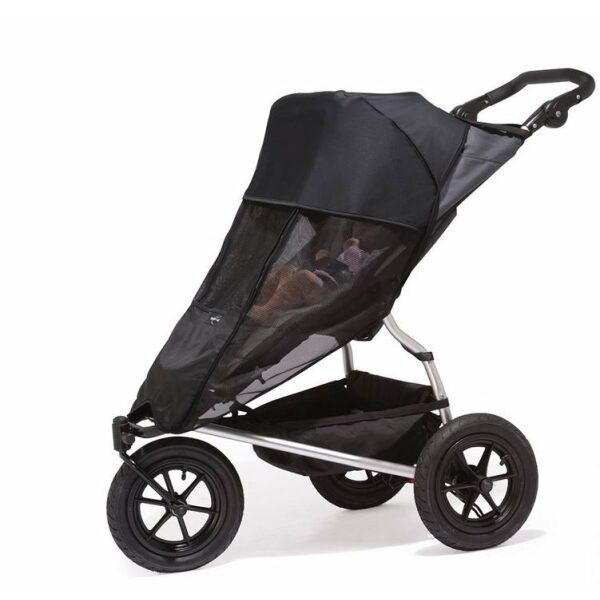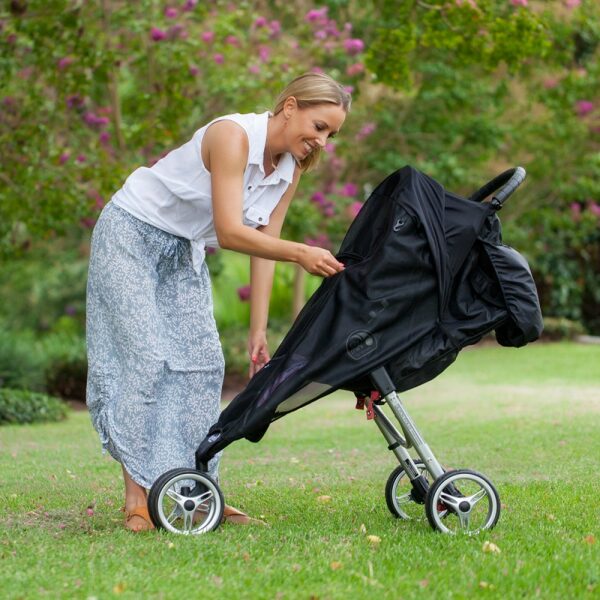 Outlook Shade A Babe 2 in 1
$59.95
Brand:

Sun Cover by Outlook
The original high protection sun and sleep shade designed to protect your baby's delicate eyes and skin from the sun. Now with a NEW snooze blind so it can be nap time, any time.
Features:
Guaranteed to fit your pram or pushchair, including front facing, rear facing and travel systems
All-round protection from sun, glare, insects & wind
Black-out blind blocks light and distractions so baby can nap on-the-move
Eye-shield™ screens 99% UV and glare, helping to prevent long term eye damage
Single mesh side vents allow effective cross ventilation
Central panels open fully for easy access
Suitable from birth to 4 years
Packs into handy, built-in storage pouch
Endorsed by the Skin and Cancer Foundation Australia
| | |
| --- | --- |
| Weight | 0.00000000 kg |
| ProductID | 35315 |
| SKU | 1-1-102-01 |
Success!
Question Added Successfully
Sort by
Would this fit a Babyco Urban Escape II 3 Wheel Stroller

Hi Hayley, thank you for your enquiry, the Outlook Shade a babe 2 in 1 is suitable for most three-wheeled buggys and is used as a universal cover, we hope this helps. ?For further information on this or any of our other products available, if you follow the link https://www.babyonthemove.co.nz/store-locations/ this will take you to our online store finder. Here you can find contact details for your nearest Baby On The Move Store where one of our team experts will be happy to assist you in your product search and help answer any further questions you may have. We hope this has helped with your query.

Question by : Hayley on Feb 13, 2018 09:37:56 AM

Would this fit a baby jogger city tour?cheers

Hi May, thank you for your enquiry, the Outlook Shade a Babe is a universal sun cover that fits the Baby Jogger Brand. We hope this helps. if you follow the link https://www.babyonthemove.co.nz/store-locations/ this will take you to our online store finder. Here you can find contact details for your nearest Baby On The Move Store where one of our team experts will be happy to assist you in your product search and help answer any further questions you may have. We hope this has helped with your query.

Question by : May on May 13, 2019 10:45:20 PM

Would this fit a mountain buggy terrain? Thanks

Hi Gemma, thank you for your enquiry, the Outlook Shade a babe 2 in 1 is suitable for most three-wheeled buggys and is used as a universal cover, we hope this helps. ?For further information on this or any of our other products available, if you follow the link https://www.babyonthemove.co.nz/store-locations/ this will take you to our online store finder. Here you can find contact details for your nearest Baby On The Move Store where one of our team experts will be happy to assist you in your product search and help answer any further questions you may have. We hope this has helped with your query.

Question by : Gemma Power on Jul 1, 2019 02:13:11 PM

Would this fit a britax flexx?

Hi Abbey, thank you for your inquiry, the Outlook shade a babe is a universal fit uv cover and will fit most 3-4 wheeled buggys, it should fit the Flexx. We hope this helps. if you follow the link https://www.babyonthemove.co.nz/store-locations/ this will take you to our online store finder. Here you can find contact details for your nearest Baby On The Move Store where one of our team experts will be happy to assist you in your product search and help answer any further questions you may have.

Question by : Abbey on Dec 5, 2019 01:28:02 PM