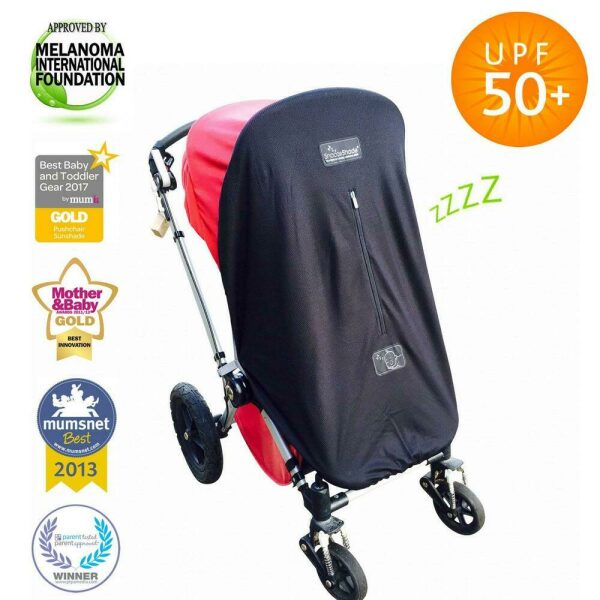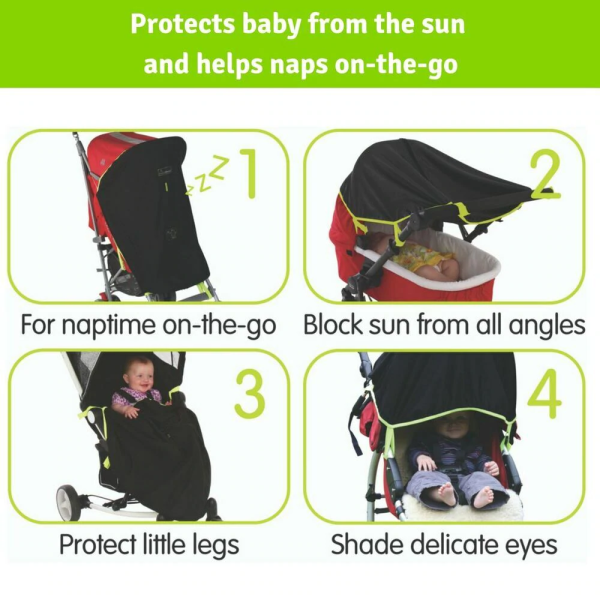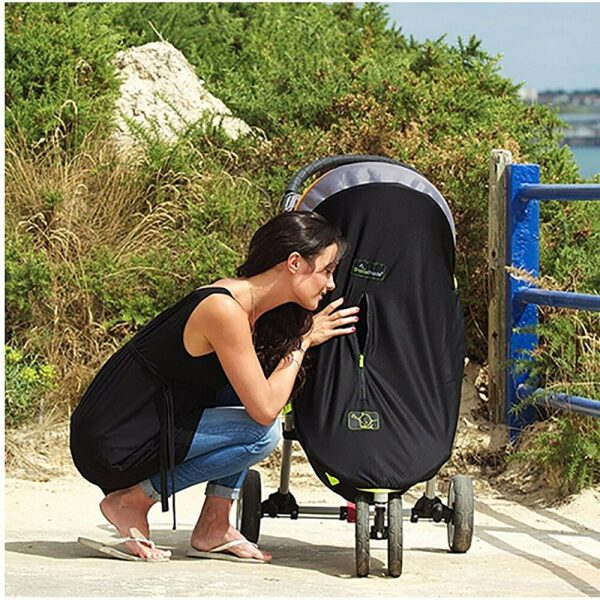 SnoozeShade Original Buggy Blackout Shade Cover
$54.95
Brand: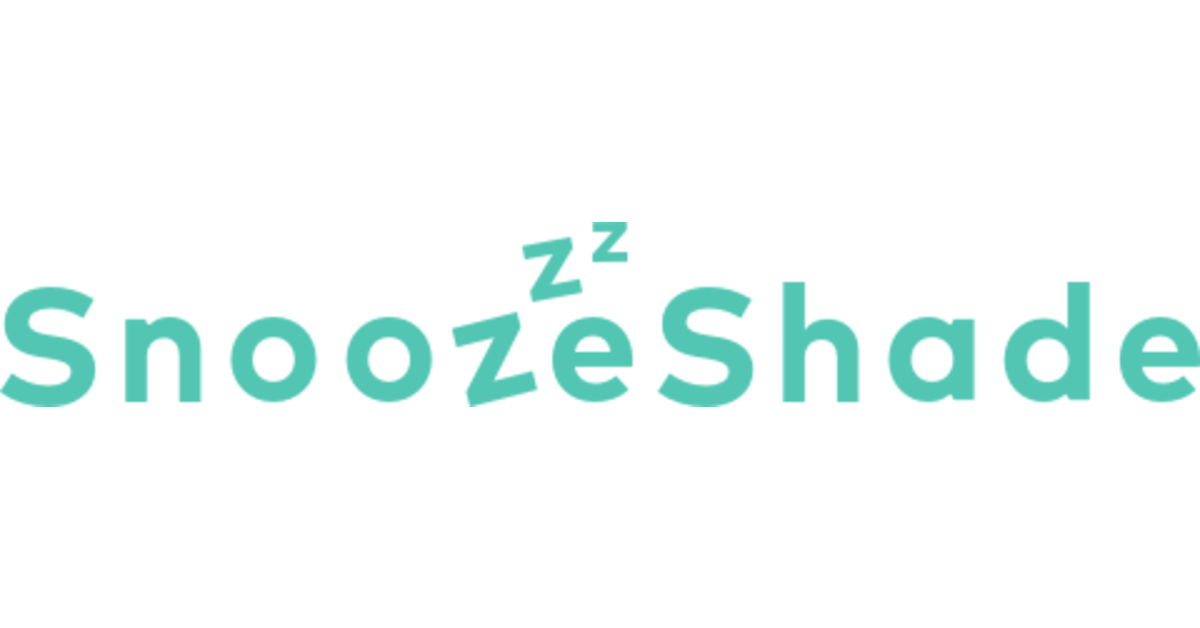 Buggy Sun Cover by SnoozeShade
Steel Grey Trim Buggy Cover – universal fit for all styles of prams, pushchairs, travel systems and buggies (3 and 4 wheel)
SnoozeShade Original is Britain's best-selling and multi-award-winning sun shade and baby sleep aid for prams, buggies, travel systems and pushchairs that protects babies from the sun and makes any time sleep time.
SnoozeShade is made from a special soft breathable fabric and gives maximum sun protection from the sun's harmful UV rays. It blocks 99% of UVA and UVB (UPF50+) and can be used safely indoors and outdoors.
Snooze Shade products are endorsed by the Melanoma International Foundation – recognition of their effectiveness in providing protection from harmful over exposure to the sun.
SnoozeShade, the universal fit baby sleep and sun shade, can help if you. . .
worry about protecting baby's delicate skin on a sunny day
want to encourage good sleeping habits on-the-go for your baby
fight with the parasol or umbrella to keep the sun out of baby's eyes
find that baby finds it hard to nap when it's sunny and bright
notice that your baby finds it hard to switch off regardless of how tired they are
get tired of blankets over your pram falling off or blowing away
SnoozeShade buggy protection is great for everyday, holidays, in restaurants or any time baby has to get some sleep in the stroller or needs extra shade from the sun.
Use from birth to help baby sleep or give protection from sun, wind, chill, light rain and insects.
When baby is asleep, the new longer 'sneak-a-peek' zip means you can quickly and easily check on your baby without having to lift the whole cover up and let in lots of light which can wake baby.
Parents often find when they start to use SnoozeShade regularly, it becomes a sleep trigger for their child in the same way that shutting the curtains in the nursery is a signal that it is sleep time.The new sleeping baby emblem deters well-meaning people from disturbing your sleeping baby.
99% of our customers would recommend SnoozeShade to their friends
.
Benefits include:
Blurs visual distractions that can keep babies from sleep
Helps maintain baby's nap routine wherever you areD
Discourages anyone from disturbing your sleeping baby
Shades baby better than an umbrella on a sunny day
Quick to fit, easy to remove and folds up small
Universal fit for all styles of prams, pushchairs, travel systems and buggies (3 and 4 wheel)
Elasticated top and sides with easy-to-attach velcro straps
Compact – folds into a small drawstring bag
Tested to all current British and European safety standards
| | |
| --- | --- |
| Weight | 0.00000000 kg |
| ProductID | 32216 |
| SKU | SS000W101 |
Success!
Question Added Successfully
Sort by
storm covers for my pram

I brought a pram from farmers which is a steel craft and i was wondering if you could tell me what kind of covers i would have to buy to fit my pram

Hi Olivia, thank you for your enquiry, the Steelcraft Sunshade is universal and fits most Steelcraft prams. https://www.babyonthemove.co.nz/on-the-move-/sun-storm-covers/UV-Sunshade. I hope this helps. ?For further information on this or any of our other products available, if you follow the link https://www.babyonthemove.co.nz/store-locations/ this will take you to our online store finder. Here you can find contact details for your nearest Baby On The Move Store where one of our team experts will be happy to assist you in your product search and help answer any further questions you may have. We hope this has helped with your query.

Question by : olivia stevenson on Feb 3, 2017 09:42:35 AM

Does this fit a baby jogger city elite stroller

Hello, I am looking for a sun (UV protector, and black out shade) for my baby jogger city elite pram. Would this one fit? Thanks, Annabelle

Hi Annabelle, thank you for your enquiry, the Snooze Shade will be suitable for your Baby Jogger Elite as it does fit most prams and strollers, we hope this helps. ?For further information on this or any of our other products available, if you follow the link https://www.babyonthemove.co.nz/store-locations/ this will take you to our online store finder. Here you can find contact details for your nearest Baby On The Move Store where one of our team experts will be happy to assist you in your product search and help answer any further questions you may have. We hope this has helped with your query.

Question by : Annabelle on May 16, 2017 11:21:47 AM

Does this fit Baby Jogger City Mini GT?

In the photo the prams cover does not seem to be fully extended. Does this fit the Baby Jogger City Mini GT when the cover is fully extended? Is it easy to get on and off? Thanks

Hi Kirsty, thank you for your enquiry, the Snooze Shade Original has velcro tabs and a stretchy cover that make it simple to fit any pram or buggy. We hope this helps. ?For further information on this or any of our other products available, if you follow the link https://www.babyonthemove.co.nz/store-locations/ this will take you to our online store finder. Here you can find contact details for your nearest Baby On The Move Store where one of our team experts will be happy to assist you in your product search and help answer any further questions you may have. We hope this has helped with your query.

Question by : Kirsty Hunt on Feb 20, 2018 11:47:02 AM

Does this fit the upper baby vista pram?

Hi we are travelling in February and need a blackout cover for our upper baby vista pram. Would this be the best product for our pram? Thanks for your help

Does this fit a Phil&teds vibe pram

Hi there, Will this fir a Phil&teds vibe pram? Thanks :)

Hi Bonnie, thank you for your enquiry, the Snooze Shade is suitable for most 3-4 wheeled prams, however as we do not stock any Phil & Teds products we cannot confirm this. We hope this helps. if you follow the link https://www.babyonthemove.co.nz/store-locations/ this will take you to our online store finder. Here you can find contact details for your nearest Baby On The Move Store where one of our team experts will be happy to assist you in your product search and help answer any further questions you may have. We hope this has helped with your query.

Question by : Bonnie on Jun 14, 2019 08:22:09 PM

Does it fit a mountain buggy duet

Does it fit a Milano?

Hi there I have a Milano 3 wheeler stroller and I was wondering if this would fit it?

HiLaura, Thank you for your enquiry, the Snooze Shade is suitable for most Buggys & Strollers so it should fit your Milano. We hope this helps. If you follow the link https://www.babyonthemove.co.nz/store-locations/ this will take you to our online store finder. Here you can find contact details for your nearest Baby On The Move Store where one of our team experts will be happy to assist you in your product search and help answer any further questions you may have.

Question by : Laura on Sep 12, 2019 08:23:25 AM

Fitting rear facing

Hi I have an oyster max 2 stroller and I need a sun cover it can be rear or forward facing but right now using it rear facing will this cover work for me?

Hi Sarah, thank you for your enquiry, The Snooze Shade is made to fit most buggys so I would say it should be suitable rear facing, We hope this helps. if you follow the link https://www.babyonthemove.co.nz/store-locations/ this will take you to our online store finder. Here you can find contact details for your nearest Baby On The Move Store where one of our team experts will be happy to assist you in your product search and help answer any further questions you may have.

Question by : Sarah Newbold on Sep 24, 2019 02:42:31 PM

Would this fit a mountain buggy nano travel pram?

Hi There, thank you for your inquiry, it has a universal fit for all styles of prams, pushchairs, travel systems and buggies (3 and 4 wheel). I hope this helps.

Question by : Sherjean on Apr 26, 2023 11:02:12 AM