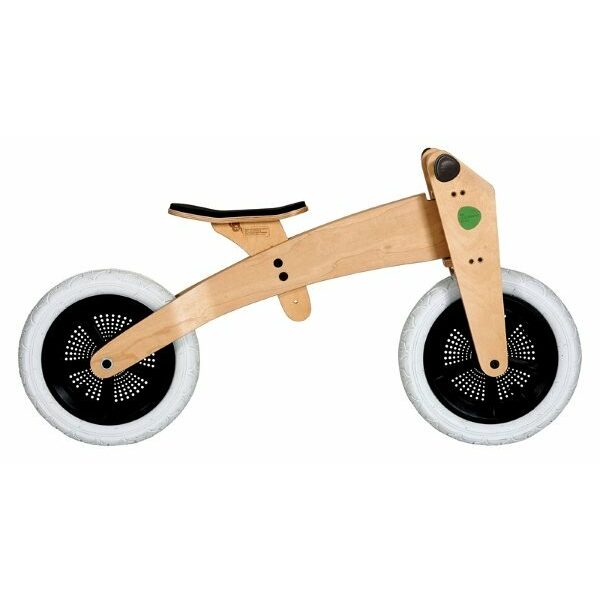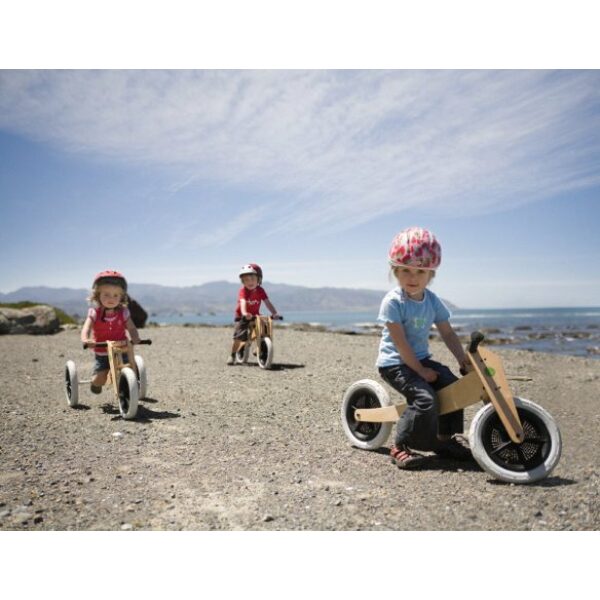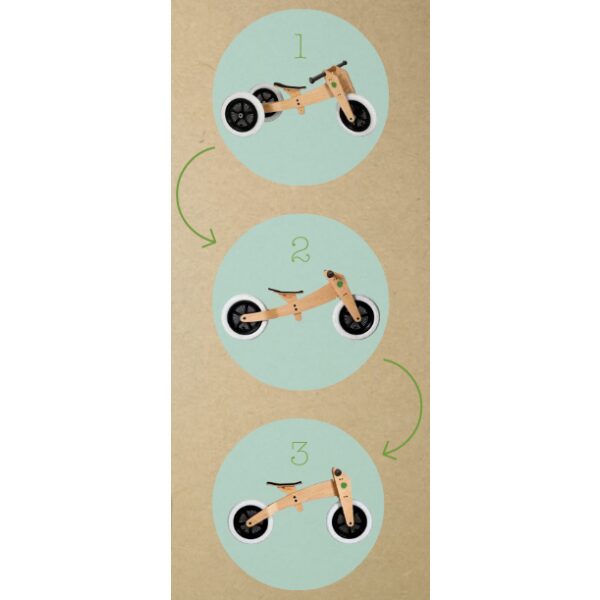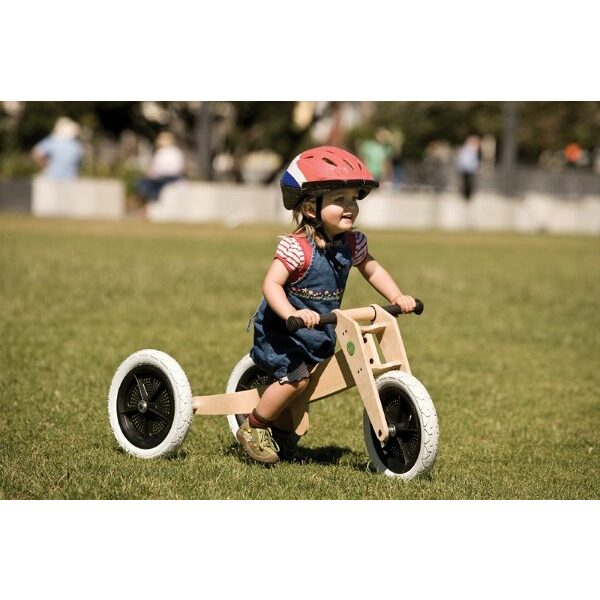 Wishbone 3 in 1 – Original
$299.00
Brand:
Wooden Balance Bike by Wishbone Design
*PLEASE NOTE EXTRA SHIPPING COST APPLIES
A desire for a stylish, high quality bike that would teach their children balance and sustain them through their pre-school years inspired a New Zealand couple to design the award-winning Wishbone Bike.
Unlike any other run bike, the Wishbone Bike evolves with a child's different stages of development.
It starts at age 1 as a wooden trike, converts to a wooden run bike as the child grows, and by four to five years old, the Wishbone frame is flipped, making the Wishbone Bike one of the largest running bikes on the market. So the Wishbone Bike converts from a three-wheeled tricycle suitable for just-walking toddlers, to a two-wheeled bike that teaches the confident rider to balance.
With its environmentally sustainable design, and innovative 3-in-1 bike feature, the Wishbone Bike designed in New Zealand really is the ultimate pre-bike.
Made from sustainably-grown wood, the running bike has no pedals and is propelled by the young rider's feet, Flintstone-style.
Features:
Recommended age range – 1 to 5 years
Adjustable seat height – 28 to 46 cm
Bike weight – 3.8 kg
Trike weight – 5.4 kg
Tyres – 12 inch pneumatic tyres
Safety – Meets current US, EU, Australian and New Zealand safety standards
| | |
| --- | --- |
| Weight | 0.00000000 kg |
| ProductID | 12388 |
| SKU | 1010 |
Success!
Question Added Successfully
Sort by
Is the seat adjustable?

Hi Andrea, Thank you for your enquiry. The Wishbone 3 in 1 Bike has an adjustable seat height of 28cm (min) to 46cm (max). If you follow the link https://www.babyonthemove.co.nz/store-locations/ this will take you to our on-line store finder. Here you can find contact details for your nearest Baby On The Move store where one of our team experts can help find a suitable solution for a product you may be searching for and assist you with any further questions you may have regarding our range of products available. We hope this has helped with your query.


Question by : Andrea Parker on Dec 9, 2015 08:04:10 AM

Your product says it is in stock on the page, yet in the address bar, it says it is out of stock. A little confused here

HI Nana, Thank you for your enquiry, we have since sorted this issue and the product is in stock. I hope this helps. For further information on this or any of our other products available, if you follow the link https://www.babyonthemove.co.nz/store-locations/ this will take you to our online store finder. Here you can find contact details for your nearest Baby On The Move Store where one of our team experts will be happy to assist you in your product search and help answer any further questions you may have. We hope this has helped with your query.


Question by : Nana Briggs on Aug 10, 2016 08:04:26 PM

What's the difference

Hi, Whats the difference between the 2 in 1 and this model? Is the trike attachment included? Also what is the seat like without buying the seat cover? Thank you!

Hi M Appleton, thanks for your enquiry, the difference between the 2 products is that the 3'n'1 is suited from the age of 1-5 and has the Trike first where the 2'n'1 is suitable for the ages of 2-5 and does not convert into a trike first, the seat is comfortable but can be hard without a cover however, it is a personal choice. We hope this helps. ?For further information on this or any of our other products available, if you follow the link https://www.babyonthemove.co.nz/store-locations/ this will take you to our online store finder. Here you can find contact details for your nearest Baby On The Move Store where one of our team experts will be happy to assist you in your product search and help answer any further questions you may have. We hope this has helped with your query.

Question by : M Appleton on Apr 11, 2017 07:49:51 AM