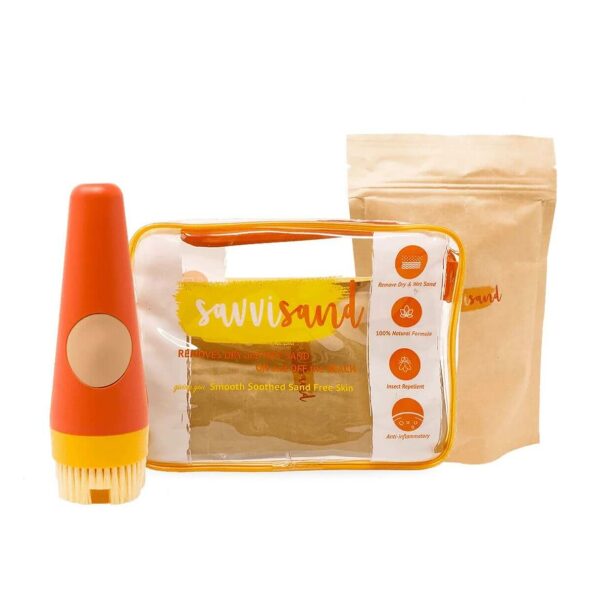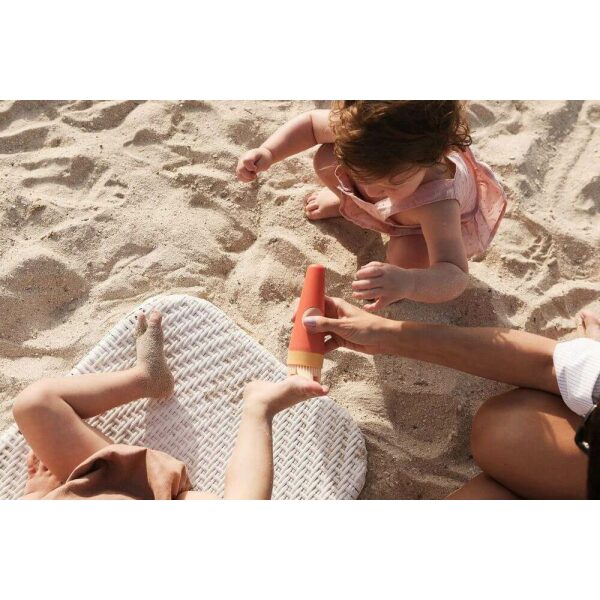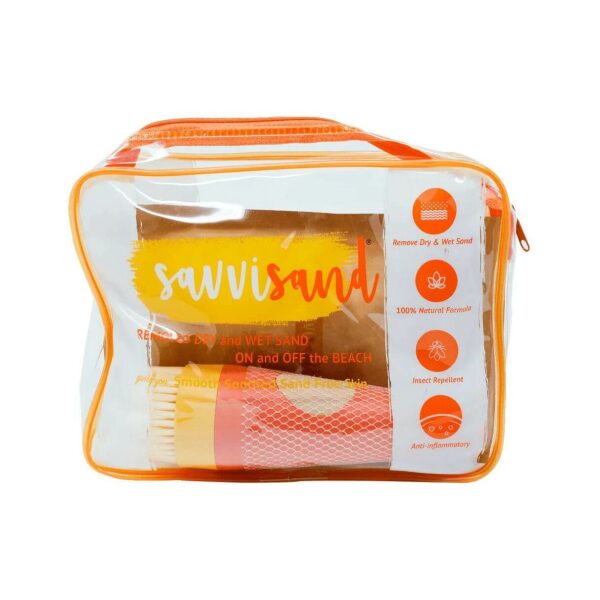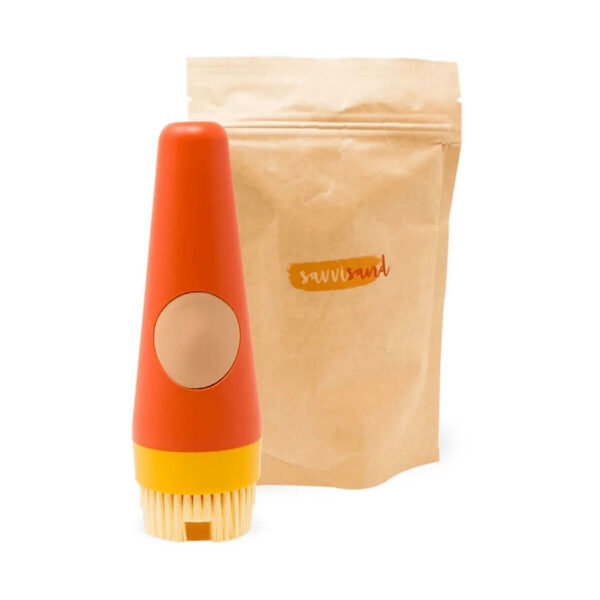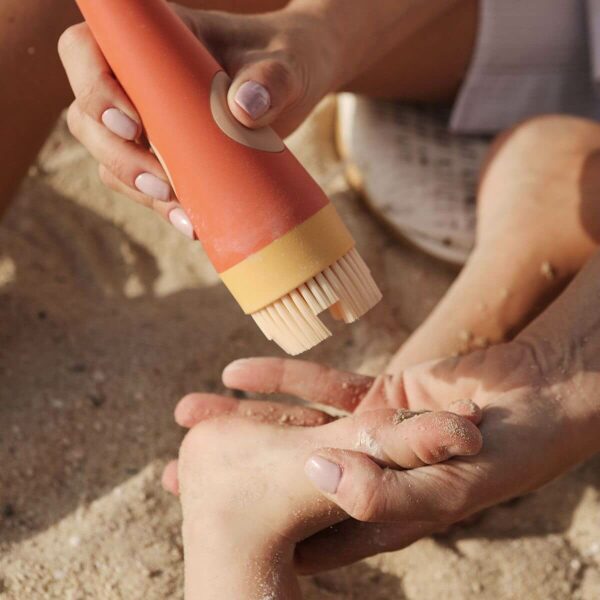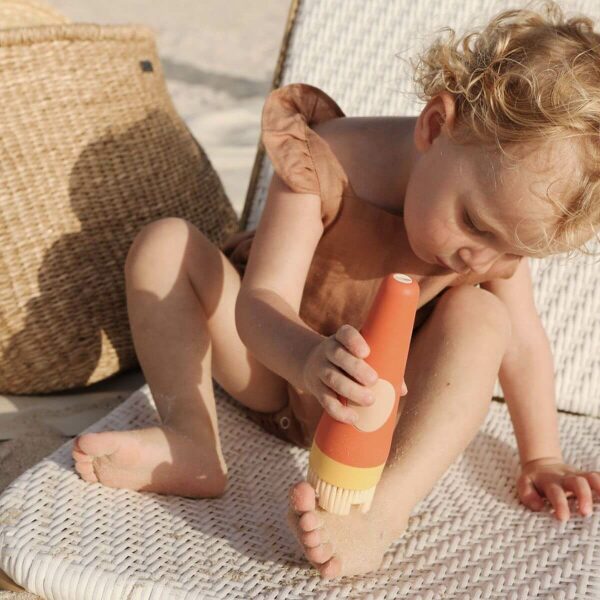 SavviSand Starter Set
$39.95
Brand:

SavviSand is the new 'must-have', reusable and practical beach accessory.
The SavviSand Starter Set is everything you need for natural, pain-free removal of sand.
Including the SavviSand applicator and a refill formula pack, it's all you need for a day on the beach bar sunscreen.
A high functioning, time-saving, new beach accessory. SavviSand eliminates sand irritation. Containing 100% natural plant and mineral extracts, SavviSand leaves skin smooth and effortlessly sand-free.
With a 100% natural formula, SavviSand also serves as an insect repellent. Anti-Fungal, anti-bacterial, and anti-inflammatory, it is perfect for children and adults.
Convenient and uncomplicated, SavviSand's applicator removes wet sand with the push of a button. Towelling off wet sand is sore and scratchy. SavviSand dries sand instantly, sweeps it off effortlessly, leaving your skin soft, smooth and soothed!
Its patent approved two-part head applicator, gently sweeps sand away, making it the easiest sand remover. With its unique soft bristle composition, sand can be removed from hard to reach places like between toes.
Lightweight, compact, and reusable, sand can be removed and sunscreen reapplied with ease due to its facile design. Not only can it be used to remove dry sand, but wet sand has become a thing of the past. By squeezing the soft buttons of the applicator, the SavviSand formula is released to dry up wet sand to then be swept off with ease.
In a reusable, plastic zip bag, the SavviSand Starter Kit can fit sunscreen inside it as well, making it a necessary beach accessory for trips to the ocean.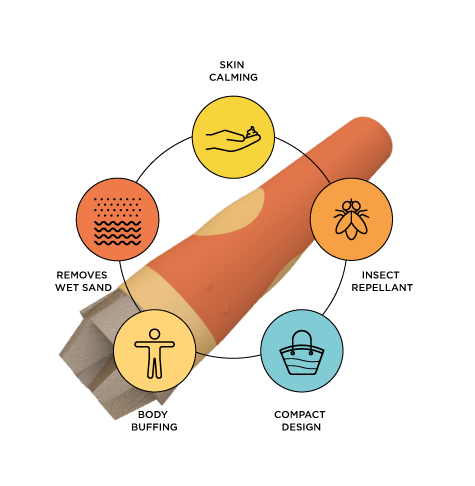 Features:
Removes wet sand from the body with soft bristles allowing easy re- application of sunscreen
Acts as a natural insect repellent
No sand in the car!
Lightweight and comes in a reusable zip-lock bag.
Leaves skin feeling smooth and soothed
Ingredients:
Maranta Arundinacea Powder, Diatomaceous Earth, Sodium Bicarbonate, Melia Azadirachta Leaf Powder, Eucalyptus, Globulus, Leaf Powder, Limonene
Care instructions:
Reseal pouch and store in dry conditions
Wash inside of applicator with warm soapy water and leave to dry
Bristles – wash with warm soapy and leave to dry
Success!
Question Added Successfully
Sort by
This Product have no Question..!