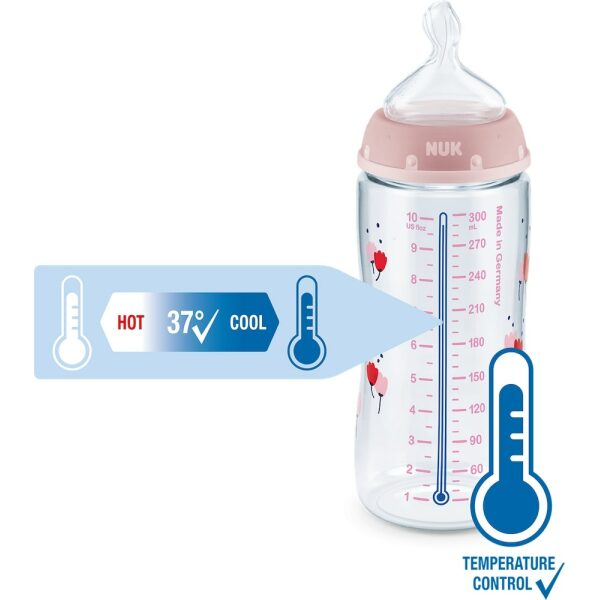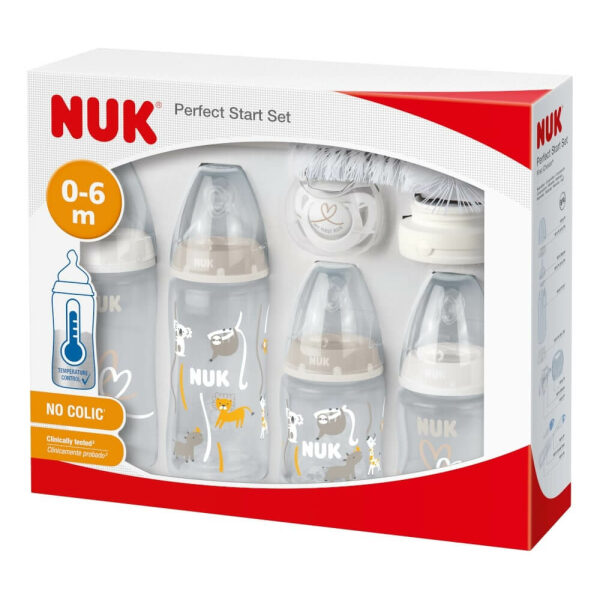 NUK First Choice Plus Perfect Start Set
$79.99
Brand: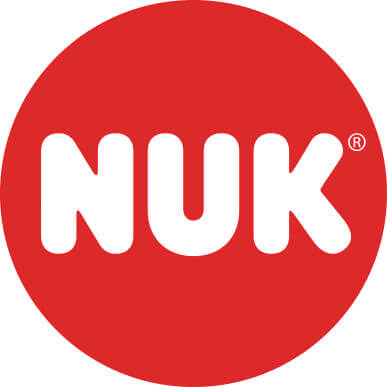 NUK First Choice+ Perfect Start Set PP with temperature control, basic set with First Choice+ baby bottles, 0-6 months
NUK First Choice+ Perfect Start Set – the carefree package for a relaxing start.
Optimal nourishment is the best prerequisite for a successful start in life. The NUK First Choice+ Perfect Start Set offers the optimal basic set with four (2 x 150ml and 2 x 300ml) NUK First Choice+ baby bottles made of polypropylene with temperature control. Completing the set are two extra NUK First Choice+ silicone teats, a NUK Genius soother made of silicone that is right for the jaw, a leakproof screw top and a practical NUK bottle brush. So you and your baby are perfectly equipped for the initial period!
Relaxed and safe feeding thanks to NUK Temperature Control.
When babies are hungry, bottle food should never be too hot or too cold. For this reason, parents check the drinking temperature before every meal. Knowing exactly when the right temperature is reached can be a challenge. That's why NUK First Choice+ baby bottles with Temperature Control function were developed.
This is a function that has not yet existed in this form before. To help from feeding the contents of the bottle too hot to your baby, NUK First Choice+ baby bottles now feature the new NUK Temperature Control Indicator. It looks like a thermometer, is located within the graduation marks and the temperature of the contents of the bottle makes it change colour. In the future, the function will help parents to achieve the optimum temperature when feeding their baby.
If the food is too hot, the normally blue indicator will turn white. Ideally, the food for feeding should have body temperature (37°C) and corresponds to the mean blue tone on the display. The new Temperature Control function is integrated in NUK First Choice+ bottles made of polypropylene. Licensed editions are excluded.
Important: NUK Temperature Control is intended as an additional check. Therefore, the temperature should still be checked manually before actual feeding. To check the food, it is suitable to put a few drops on the inside of the wrist.
Set contains:
4 NUK First Choice+ baby bottles with temperature control indicator (PP), 2 x 150ml with silicone teat 0-6 months S (tea) and 2 x 300ml with silicone teat 6-18 months M (formula), BPA free
2 extra NUK First Choice+ silicone teats 0-6 months M (formula)
1x NUK Open & Close leakproof screw top and 1x NUK bottle brush 2in1
1x NUK Genius silicone soother "My First NUK", 0-6 months with soother box
Attractive NUK gift box with window
The most natural teat for your baby.
For many years, NUK First Choice has been the first choice for bottle feeding modelled on breastfeeding. With NUK First Choice+ we have managed to get even closer to nature – for healthy jaw development and a drinking sensation as if at a parent's breast.
Natural and shaped correctly for the jaw.
The special NUK Shape is modelled on a parent's nipple as they breastfeed. It leaves your baby´s tongue and jaw enough room for natural sucking movements.
Soft as a parent's breast.
With its new soft zone, the silicone baglet is a better fit against the roof of your baby´s mouth – giving a natural feeling while drinking.
No Colic*.
The NUK Anti-Colic Air System ensures a natural flow to help your baby drink without swallowing air.
Clinically-tested**.
Due to its particularly natural shape, the NUK teat is accepted well by babies. This means that it is specially suited for babies who are both bottle and breastfeed.
NUK Open & Close System – open and close with just one twist.
The NUK Open & Close System replaces the standard disc and makes a baby´s daily routine considerably easier: simply screw the NUK Open & Close System into place the between the NUK First Choice Baby Bottle and the teat and screw ring – that's all!
Cleaning that's kind to your baby – the NUK bottle brush 2in1.
The NUK bottle brush 2in1 was specially developed for cleaning baby bottles and teats. Thanks to its stable bristles it cleans particularly thoroughly and comes with an integrated little teat brush in the handle. This ergonomic handle lets you apply stronger pressure as you clean and is optimal to hold.
The NUK Genius silicone soother My First NUK.
Babies love their soother! With the NUK Genius Silicone Soother too, we took our inspiration from nature to ensure your baby's sucking experience is close to nature: the original NUK Shape that is right for the jaw, is modelled on a parent's nipple as they breastfeed and helps reduce the risk of crooked teeth and misaligned jaws. The extra-flat baglet enables a natural sucking movement. Thanks to the smooth transition from the teat neck to the baglet, the soother feels particularly familiar and natural for your baby.
*Independent market research among 205 parents, Germany 2018.
99% of the parents confirmed that the NUK First Choice+ Control bottle does not cause colic.
**Scientific study: Moral et al. BMC Pediatrics 2010, 10:6. For more information go to http://nuk.net.nz/research.
| | |
| --- | --- |
| Weight | 0.00000000 kg |
| ProductID | 34576 |
| SKU | 5560689 |
Success!
Question Added Successfully
Sort by
This Product have no Question..!