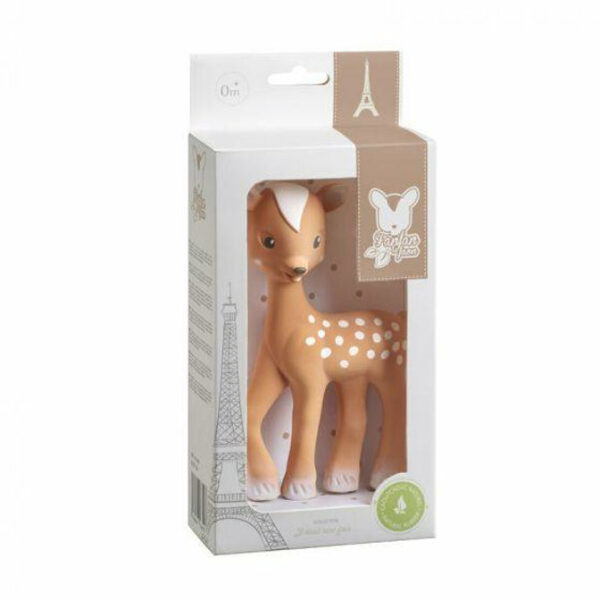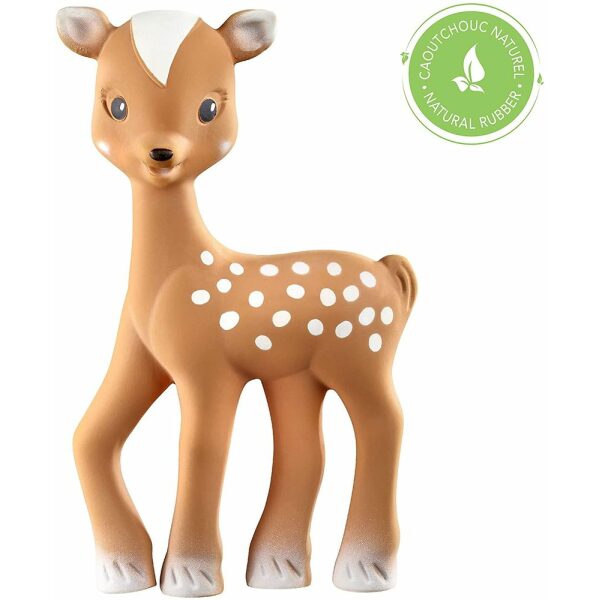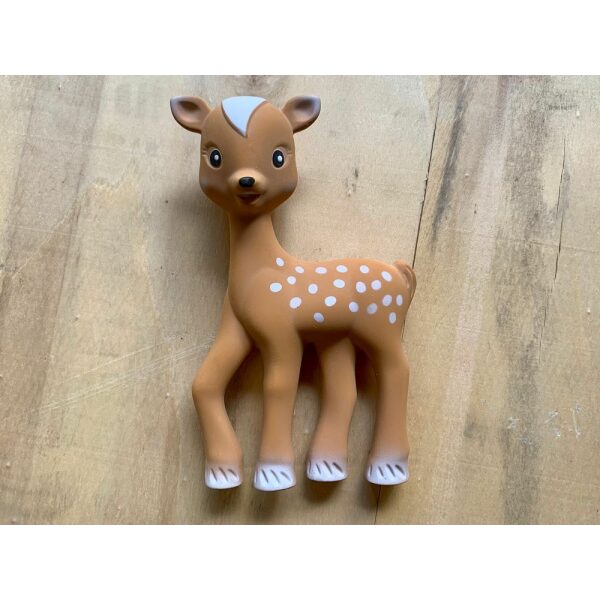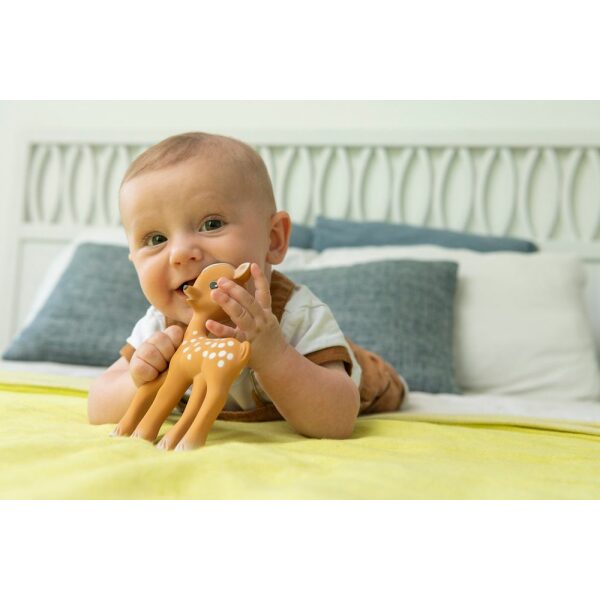 Fan Fan La Fawn
$39.90
Brand:

Fan Fan La Fawn Teething Toy
Meet Fan Fan la fawn – Sophie the Giraffe's cousin!
Fan Fan la fawn is made from 100% natural rubber from the Havea tree and painted with natural food grade paints.  Natural Rubber is soft, safe & non-toxic for baby to teethe & chew.
Fanfan la fawn is designed to soothe babies gums during all stages of teething.  Her bumpy head and numerous chewable parts help in the early stages with front teeth.  In later stages of teething her legs and hooves can be used for entire gum chewing of hard to reach molars.
Fan Fan la fawn stimulates each of babies 5 senses:
Sight: The white eye-catching spots over Fan Fan la Fawn's body provide visual stimulation.  She soon becomes a familiar and reassuring object for baby who easily recognises her.
Hearing: Fan Fan la fawn's squeaker keeps babies amused and stimulates their hearing and helps them understand the link between cause and effect.
Taste: Made of 100% natural rubber and food-grade paint, Fan Fan can be safely chewed. Her soft texture and numerous chewable parts, makes her perfect for soothing baby's gums during all stages of teething.
Touch: Very light she is perfect for baby's small hands. Her long legs and neck are easy to grasp. Fan Fan's softness, reminiscent of a mother's skin, reassures baby and provides physiological and emotional responses that soothe baby and promote healthy growth and well-being.
Smell: The singular scent of natural rubber derived from the Hevea tree gives Fan Fan a truly distinctive feature that makes it easy for baby to identify her amongst their other toys
Features:
Fan Fan is Phthalate-Free with No Vinyl (no-PVC!)
100% natural rubber. Safe, food grade colours
Stimulates the senses
Suitable from 0 months +
Comes in a gift box
Success!
Question Added Successfully
Sort by
This Product have no Question..!