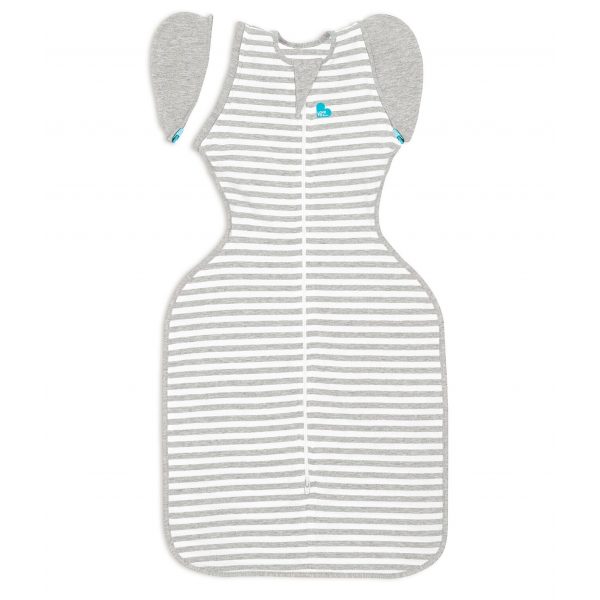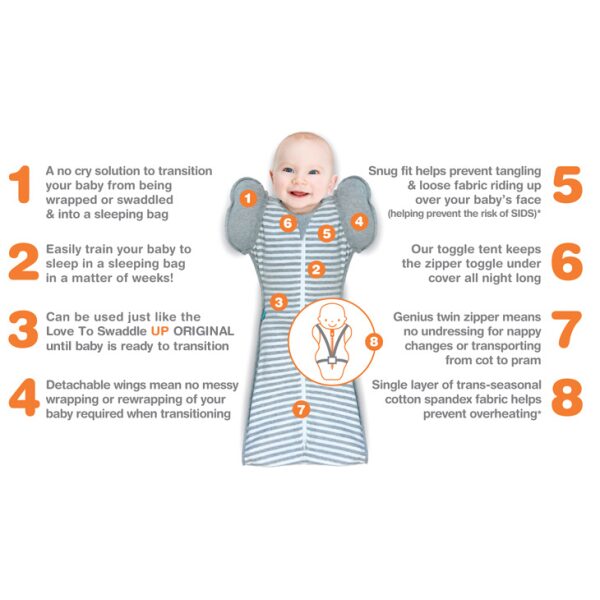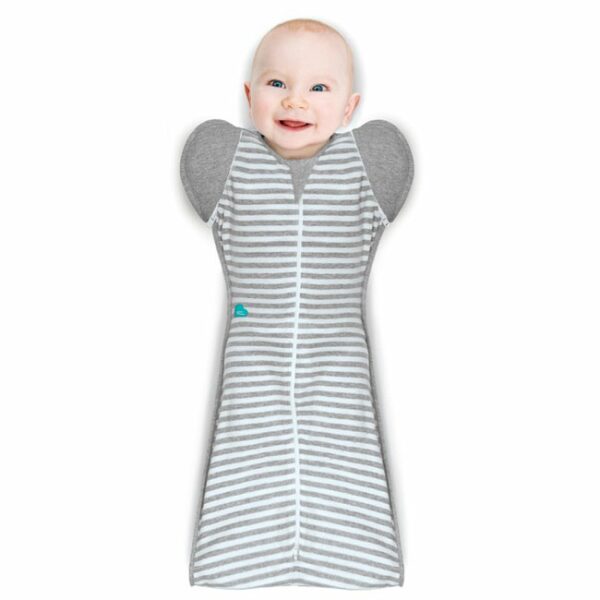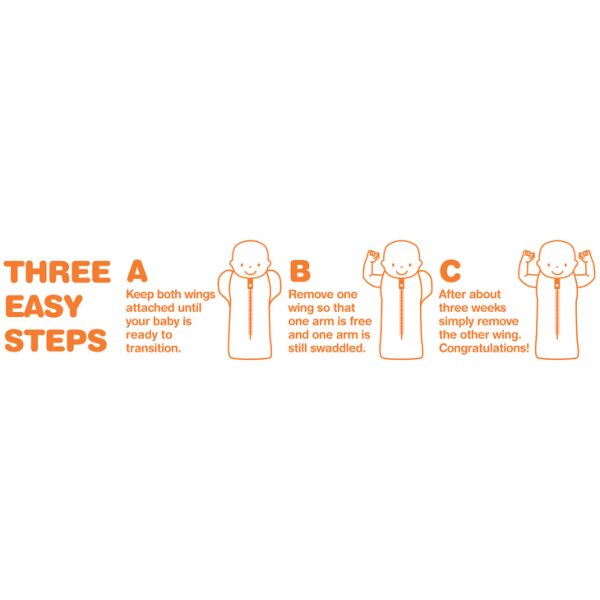 Love To Dream Swaddle Up Transition Bag Grey
$75.00
Brand: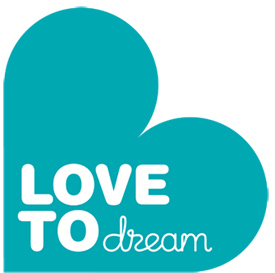 Baby Swaddle by Love to Dream
*PLEASE NOTE: Designs may vary between sizes. Product may differ slightly than what is pictured.*
Preserve your precious sleep routine when it's time to transition.
Making the move from the secure feeling of being swaddled to sleeping with arms free can be upsetting for some babies… not to mention their parents! But there is a way to preserve your sleep routine during the transition.
The Swaddle UP™ 50/50 helps your baby to gradually adjust to sleeping un-swaddled. Simply unzip one 'wing', wait a few nights for your baby to adjust to the sensation of sleeping with one arm released, & then remove the second wing. Your baby is now transitioned!
Size: (according to your babies weight)
Medium   6 – 8.5 Kg
Large       8.5 – 11 Kg
XL           11-14 kg
Features:
An easier solution to transition your baby from being wrapped or swaddled and into a sleep bag
Train your baby to sleep in a sleep bag in a matter of days!
Can be used just like the Love To Dream Swaddle UP ORIGINAL until baby is ready to transition
Single layer of trans-seasonal cotton elastane fabric helps reduce the risk of over-heating compared to multi-layered swaddles
Smart zip-UP design reduces the risk of swaddle unravelling whilst baby is sleeping
Seam-free on the inside meand increased comfort for your baby
Nappy changes and transportation from cot to stroller made easy with our twin zipper design
| | |
| --- | --- |
| Weight | 0.00000000 kg |
| ProductID | 12912 |
| Size | Medium, Large, XL |
| SKU | S4GR |
Success!
Question Added Successfully
Sort by
When will size Large 50/50 Love To Dream be back in stock?

Hi Michael, Thank You for your enquiry. As of 23rd July 2015, the 50/50 Love To Dream Swaddle Up sizes large and extra large are in stock. We are awaiting delivery of the Medium sizes. These are expected to be back in stock by the end of August 2015. If you follow the link https://www.babyonthemove.co.nz/store-locations/ this will take you to our on-line store finder. Here you can find contact details for your nearest Baby On The Move store, where one of our team experts can help find a suitable solution for a product you are searching for and assist you with any further questions you may have regarding our range of products available. We hope this has helped with your query.


Question by : Michael on Jul 22, 2015 09:13:48 PM

Will you be getting any Love to Dream 50/50 Winter Weight Swaddles?

Hi Renee, Thank you for your enquiry. As of the 30th March 2016, we have the Winter Warm Swaddle Up by Love To Dream available to purchase online. If you follow the link https://www.babyonthemove.co.nz/baby-nursery/baby-wraps-sleeping-bag/swaddleup-winter-warm this wil take you to this product online. For further information on this or any of our other products available, if you follow the link https://www.babyonthemove.co.nz/store-locations/ this will take you to our online store finder. Here you can find contact details for your nearest Baby On The Move Store where one of our team experts will be happy to assist you in your product search and help answer any further questions you may have. We hope this has helped with your query.

Question by : Renee on Mar 28, 2016 12:40:55 PM

Can you please advise what the term 50/50 means? Also what tog rating is this particular item?

Hi there, thank you for your inquiry, The Swaddle UP™ 50/50 helps your baby to gradually adjust to sleeping un-swaddled. Simply unzip one 'wing', wait a few nights for your baby to adjust to the sensation of sleeping with one arm released, & then remove the second wing. Your baby is now transitioned!

Question by : Sophie on Jul 19, 2022 01:13:14 PM