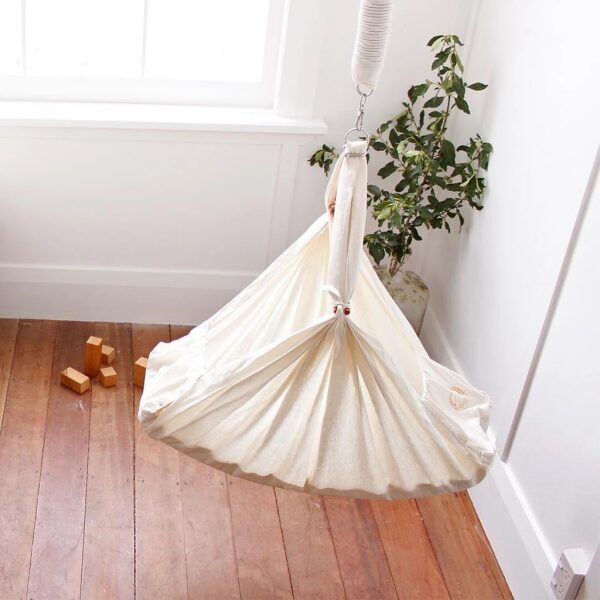 Natures Sway Organics Baby Hammock
$465.00
Brand:
Organic Baby Hammock by Natures Sway
Organic 55% hemp, 45% cotton, grown without the use of herbicides or pesticides – GOTS (Global Organic Textile Standard) certified.
Hammocks have been used for centuries to keep babies safe and nearby their caregivers. The hammock's natural contours keep babies on their back, and the gentle movement is known to be a very calming and familiar feeling, reminding them of being carried by their mother.
Buying a Nature's Sway baby hammock gives you confidence that your baby is sleeping peacefully, in a bed made with all natural materials of the highest quality.
The Hammock
This baby hammock is constructed from an organic, unbleached cotton/hemp blend fabric. Hand-made in New Zealand, each hammock is carefully checked, to ensure the highest standards are always met. Please be aware, your hammock's exact shade may vary slightly from the hammock pictured.
The Mattress
All Nature's Sway baby hammocks come with a specially designed wool mattress, made from New Zealand wool, which naturally regulates your babies temperature, and is naturally flame resistant.
The Hardware
All Nature's Sway hardware components come from the highest quality sources. Our Spring has been thoroughly tested and has zero initial tension, which means it will not snap shut on the re-bound, giving our hammock a much more gentle and flowing motion. Each spring also has a safety strap securely attached, which prevents the spring from over-extending. The chain, swivel clip, karabiners and hooks are all marine-grade stainless steel.
The baby hammock is designed to provide a gentle curve for your new born baby, however, as baby gets older they may require a stiffener underneath the mattress to make the hammock base firmer and more open. These are recommended for babies 4kgs and over and are sold separately. All Nature's Sway products are lovingly hand-made in New Zealand from the highest quality materials.
Always observe all safety instructions. When a child is able to roll, sit, kneel or pull themselves up, the hammock is no longer safe and should not be used.
Your Nature's Sway Organic Baby Hammock will include:
One organic cotton/hemp blend baby hammock
One Natural wool mattress covered with organic cotton/hemp fabric
One spring
One 0.5m (19.6″) stainless steel chain with two karabiners
Two coach-eye ceiling screws
One door clamp
One wooden spreader bar
One organic cotton knit fitted sheet
An instruction booklet
One Hammock carry bag
| | |
| --- | --- |
| Weight | 0.00000000 kg |
| ProductID | 11730 |
| SKU | BHOC |
Success!
Question Added Successfully
Sort by
This Product have no Question..!